Prayers for People Under Pressure
Jonathan Aitken, Author
Tuesday, May 13, 2008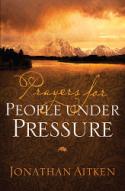 Drugs were only one of the pressures that caused turbulence in the lives of the members of our prison prayer group. We all had family worries, relationship problems, temptations, character failures, special situations, and a mass of other baggage to bring before God. "And who the ________ is God anyway?" one inmate asked aggressively. Some of the answers to this question can be found in Scripture. We had a terrific discussion in the group one night about God as revealed in Psalm 139. Another line of answer can be supplied by the doctrine of the Trinity. Even after two years of study at an Oxford theological college I am not sure I can explain the concept of a three-person God. But I understood it when I listened to the prayers of my fellow prisoners. For some of these young men would address their prayers to God the Father, not least because they had never known who their earthly fathers were. However, they knew they wanted a paternal presence bringing support, stability, discipline, and fatherly love to their lives. Others prayed to God the Son because they knew they needed to relate to Jesus and what he offered—compassion, forgiveness, healing, and a love for sinners. And others prayed for the power of the Holy Spirit to come in and transform their lives so that they could turn away from crime, drugs, anger, and other demons.
This journey of prayer in prison was a journey of change. It was spiritual life in the raw, stripping away much of my own protective defenses that had separated me from God and my neighbors in the past. I am not the best judge of how much it changed me. All I can say for sure is that I came to love God and to love my neighbors (not all of them easily lovable people!) far more than I had ever done before. That gain from prayer life as a convict now seems far more fulfilling than the prizes of public life as a Cabinet Minister. So for that reason, although it amazes many people, I now say from the heart, "Thank you, God, for sending me to prison."
One last reflection on my prison prayer life: In the fifty-seven years of my existence before being driven through the gates of HMP Belmarsh, I had enjoyed many interesting, exciting, happy experiences in a varied and crowded career. Yet none of them gave me as much excitement, joy, and fulfillment as my experiences in prison of coming closer to God in solitary prayer and bringing others closer to him in group prayer.
These prison prayer experiences were so intense that I probably needed a period of decompression from them after my release in January 2000. Unless you are a full-time minister, spiritual counselor, or member of a religious order, it is simply not possible to spend several hours each day praying, either alone or with other people. Nevertheless, on a reduced scale, my prayer disciplines continued after I reentered the world of freedom. The Michael Alison group, which had continued to meet every Thursday morning for breakfast in my home while I was away, welcomed me back. Strengthened in its membership by Brian, a fellow Old Belmarshian, and David Christie, a fellow Old Etonian, these brothers helped me through a difficult period of readjustment.
The next big milestone on my journey of prayer was entering Wycliffe Hall, Oxford. I do not think I fully appreciated at the time quite what a big risk Wycliffe was taking in admitting me as a student. For I remained a high-profile, controversial, and colorful target for the media, which continued to present me in a negative light. My journey of faith, parts of which I had attempted to describe in its pre-prison phase in an autobiography, Pride and Perjury, was greeted with much cynicism. To make matters worse, Wycliffe had admitted an ex-prisoner as a student in the previous academic year, and the experiment had failed badly. At least that failure had been veiled in obscurity, but any comparable weaknesses by me would be guaranteed maximum publicity. So the college was nervous about its reputation, and I was hesitant about committing myself to two years of full-time study there. With both sides fluttering in our respective dovecotes, Michael Alison again showed his steel. After much prayer he put heart into me and backbone into the Wycliffe tutors. The result was that in October 2000 I became an Oxford University undergraduate for the second time in my life.
Have something to say about this article? Leave your comment via Facebook below!
advertise with us
Example: "Gen 1:1" "John 3" "Moses" "trust"
Advanced Search
Listen to Your Favorite Pastors