Q&A With Author Kristin Billerbeck
Staff, Christianbook.com
Monday, August 28, 2006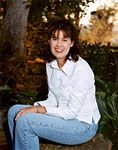 In a recent interview with Christianbook.com, wife, mother and author Kristin Billerbeck discusses her upcoming book, "Calm, Cool & Adjusted," the third title in the "Spa Girls Series" (Integrity Publishers).
Where did the inspiration for "Calm, Cool & Adjusted" come from?
From many places, actually. First, it came from my love of natural medicine, which has healed my symptoms of multiple sclerosis for five years now. Secondly, it came from watching so many people in the Bay Area struggle with perfectionism and obsessive-compulsive habits. I wanted to infiltrate how that mind wrestles with life and doing everything "right" but not always relationally. Some serious issues, but dealt with in a lighthearted manner that hopefully, makes it fun for the reader.
Is "Calm, Cool & Adjusted" the end of the "Spa Girls" series?
Yes, each woman's story has been told:  Lilly, Morgan and Poppy and I'm ready to move on to something new:  A Hollywood hairstylist, actually in "Split Ends."
Is any part of "Calm, Cool & Adjusted" factual?
Nope! Only the research into natural medicine and the obsessive personality is based on truths.
Do you prefer to write contemporary chick-lit fiction?
I do! Chick-lit allows me to take on serious issues, without making anyone feel as though they're getting a sermon on life. Chick-lit explores the mistakes we make as humans in an entertaining format.
What are some of the challenges you face as an author?
My life is just hectic. I have four children (11, 10, 8, 6) and for the last year, we have lived 25 minutes from the grocery store and Starbucks. Which may not sound difficult for most, but it's hard for me to take an hour and a half to do something as simple as shop and come home and work! There is just not enough time to be creative!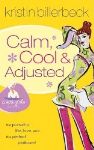 How long did "Calm, Cool & Adjusted" take you to complete?
That's a hard question because I write in a strange way. I take months to get to know a character – which is easier when I've written a series and have been getting to know the characters slowly. But I would say overall, it takes me about six months to ruminate and then put it on paper.
How much research did "Calm, Cool & Adjusted" take?
It took a lot because one of the things I discovered in my own search of natural medicine is that it is ripe with heresy. I am very grounded in my faith, and I really feel a love and compassion for health practitioners who want to help, but I'm also very aware of the dangers for people who desire healing, but may not have a solid faith. I wanted to present natural healing in a way that is safe for the Christian. Some of my experiences have been the only contact New-Agers have had with Christians that wasn't judgmental or what they imagined. I feel it's a ministry for me, but I have learned so much from them about the way God created the human body to work in harmony.
Do you have a favorite character? Why?
I think my favorite was Poppy in "Calm, Cool & Adjusted" because she really struggled with what it is to be a Christian who doesn't fit into the normal parameters of being a cultural Christian in America. I enjoyed exploring her issues and trying to reconcile what she felt called to do, with what was expected of her.
Have something to say about this article? Leave your comment via Facebook below!
advertise with us
Example: "Gen 1:1" "John 3" "Moses" "trust"
Advanced Search
Listen to Your Favorite Pastors