Q&A With Author Sharon Hinck
Staff, Christianbook.com
Monday, August 14, 2006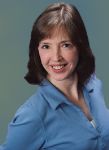 In a recent interview with Christianbook.com, debut novelist Sharon Hinck, a wife and mother of four children who generously provide her with material for her books, discusses "The Secret Life of Becky Miller."
Please give us a little biography.
Sharon is a wife and mother of four children who generously provide her with fodder for her books. She earned an MA in Communication from Regent University in 1986, and spent ten years as the artistic director of a Christian performing arts group, CrossCurrent. That ministry included three short-term mission trips to Hong Kong. At various times she has been a church youth worker, a choreographer and ballet teacher, a home-school mom, a church organist, and a freelance writer. One day she'll figure out what to be when she grows up.
When she isn't writing, Sharon enjoys speaking to conferences, retreats, and church groups. She and her family make their home near Minneapolis, Minnesota.
What is your favorite Scripture verse?
"But we have this treasure in jars of clay, to show that this all-surpassing power is from God and not from us" (2 Corinthians 4:7 NIV).
I've spent far too much of my Christian walk wanting to do Big Things for God, and trying to be a savior to the world – driving myself into burnout. God keeps hugging me and reminding me that HE is the Savior, and He can do amazing things in my little ordinary life. His grace trickles out through the cracks and chips of my life.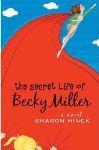 Where did the inspiration for "The Secret Life of Becky Miller" come from?
My friends and I all seemed to be struggling with the same "Supermom Syndrome" and feeling as if we were falling short. As I pondered creating a character who could explore that tendency, I remembered the James Thurber short story "Secret Life of Walter Mittyere" – a husband escapes his ordinary life with grandiose daydreams. I wondered how that would look if a soccer-mom dreamed of being Indiana Jones, James Bond, or Mother Teresa.
Is any part of "Secret Life of Becky Miller" factual?
The desire to do "Something Big for God" and the emotion of struggling and failing in the many arenas women face are all authentic, and certainly something I've experienced. The storyline is fictional. Becky's growing understanding that God can do big things in our small, ordinary choices and daily moments is very much a journey that I've been on. Like Becky, I continue to backslide into basing my worth on accomplishments. I also find joy and amazement with each reminder of grace. I don't have to (and indeed CAN'T) earn His love. He simply loves me.
Do you prefer to write contemporary fiction?
I started out writing nonfiction humor, personal experience, and devotional articles, so the first-person voice comes most naturally to me. I love the honesty and humor of the mom-lit, contemporary fiction style. I also adore writing adventure/fantasy, and was able to weave some of that into "The Secret Life of Becky Miller," as well as into the sequel. I also have a three-book fantasy series coming out next year.
What are some of the challenges you face as an author?
Self-doubt. Crows flap around my head as I work, telling me I don't have anything of value to say and no skill to say it. I'm so glad I can lean into God. I face the facts daily that I don't have the strength, wisdom, wit, or courage that I need to be a writer. But He has all those things, and gives me what I need each day as I show up at my keyboard and wait on Him.
Have something to say about this article? Leave your comment via Facebook below!
advertise with us
Example: "Gen 1:1" "John 3" "Moses" "trust"
Advanced Search
Listen to Your Favorite Pastors