Q&A With Author Sharon Hinck
Staff, Christianbook.com
Monday, August 14, 2006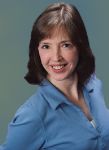 I also have a hard time turning off my busy brain once it's chewing on plot threads and character development. I'm trying to create times and spaces where I'm NOT working ... but that's hard to delineate, since so much of a writer's work is observation, mulling, dreaming, and wondering.
How long did "The Secret Life of Becky Miller" take you to complete?
I brainstormed for several months, and wrote the first chapter on the way home from a Christian writer's conference in April. The manuscript was finished by August, and offered a contract by Thanksgiving. Then it took about eighteen months until release (with plenty of help from my wonderful editors).
However, another way to look at it is that it took forty-something years to complete, because the themes and content were shaped by all my life experiences. 
How much research did "The Secret Life of Becky Miller" take?
Many of the daydreams were drawn from my varied personal experiences (okay, not the fighting pirates or dog-sledding). On my Web site I share "The Secret Life of Sharon Hinck" and mention some of the strange things I've done over the years. It was fun to incorporate those experiences into the scenes. They were all a combination of research, personal experience, and imagination. As far as the main storyline, I did some research into medical issues (easy because of the doctors in our family), insurance, and employment issues. But much of the daily life of Becky was all too familiar to me, and was easy to remember from my days with much younger children and hanging out with my friends who have young children.
Do you have a favorite character and why?
Becky captures my heart because she's a bit wacky but has great intentions. She also attacks life with great energy. I also enjoy Heather, because I have a little "inner flower-child" of my own.
Are there any other new projects on the horizon?
The next Becky Miller book, "Renovating Becky Miller," comes out in February 2007. The Miller family decides to buy a "fixer-upper" out in the country to help them simplify their life. Yeah, right!
Then a three-book fantasy series, "The Restorer," releases from NavPress in June 2007, September 2007, and January 2008. A stand-alone mom-lit, "In the Key of Mom," is due out with Bethany House in the spring of 2008, followed by "Penny's Project" in the fall of 2008.
All the novels deal with the adventures of life often hidden within the ordinary and how each Christian's walk is a hero's journey of sorts.
Who was the person who influenced you the most with your writing?
Authors I've read all my life have taught me the power of story, language, symbol, and humor. Too many to name. My grad-school writing prof, John Lawing, was the first to convince me to submit work for publication and helped me over the hurdle of awe that I had. Because of his red pen, as well as his great encouragement, I began publishing in magazines, so that by the time I was ready to work on a novel, I wasn't quite as overwhelmed by the mystique of writing.
What advice would you give to a person trying to become a fiction writer?
If you find yourself crying in the book aisle at Target, because you have a story burning in your bones that you want told ... and you want to see it on these shelves … you might have a calling.
For me, the writing path included a strong critique group, online writer groups, writer's conferences, and most of all ... daily writing. If you find yourself reading about writing, talking about writing, and dreaming about writing, but not writing, it might not be your calling.
What were your favorite books as a child?
Everything I could get my hands on. Carl Sandburg's "Rootabaga Stories," Dr. Seuss, Scholastic book club selections (I was the geeky kid who always ordered a HUGE stack of books at school each month), horse books, Louisa Mae Alcott, Robert Louis Stevenson, Mark Twain, Jack London, C. S. Lewis, L. M. Montgomery, every Nancy Drew and Trixie Belden, and the amazing Madeleine L'Engle. As I reached middle school I devoured adult spy novels, sci-fi, fantasy, history, biography, Christian living.
Have something to say about this article? Leave your comment via Facebook below!
advertise with us
Example: "Gen 1:1" "John 3" "Moses" "trust"
Advanced Search
Listen to Your Favorite Pastors