Q&A With "Beach House" Author Sally John
Staff, Christianbook.com
Wednesday, January 11, 2006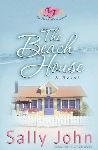 In a recent interview, Sally John, author of "The Beach House" (Harvest House Publishers) discusses her inspiration for the San Diego-based series about four female friends from childhood, who reunite to celebrate their fortieth birthdays.

Christianbook.com:  Is "The Beach House" based on your life or a close friend or family member?
Sally John:  No. In general, turning 40 was an awakening time for me. There was that question Molly faced:  now do I go back to full-time teaching?
CB.com:  How did you choose the story line?
John:  I think I was brainstorming with my editor and another Harvest House Publishers editor. I wanted to set a series in San Diego; what better setting than at the beach? I wanted to write about women. Somehow we arrived at the idea of women facing a significant turning point in life. A fortieth birthday fit the bill. So the basic story line was friends meet at the beach to celebrate their fortieth. Later I thought that in order to show the characters at this juncture of life, I needed to know from whence they had come. Ah-ha! Friends who have known each other since childhood offer unique insights. Molly, Andie, Jo, and Char were born.
CB.com:  Do you prefer to write contemporary fiction?
John:  Yes, very much so. I enjoy writing romance and reveling in the sheer sweetness of it, but I've always longed to dig a little more deeply into characters' psyches.
CB.com:  What are some of the challenges you face being an author?
John:  Making time for the rest of life. It's not so much meeting a deadline as it is living in an imaginary world where real people don't exist. At certain points of the writing, it's quite difficult to merge the two. I guess I'm not adept at straddling the two worlds. Chores go undone, friends and family wonder if I've passed on, my husband doesn't expect conversation. Ha! This sounds unhealthy, doesn't it?
CB.com:  How long did it take you to complete "The Beach House"?
John:  About nine months.
CB.com:  How much research did it take?
John:  This one didn't require much, nothing compared to when I delved into the life of firefighter, paramedic, and detective. I asked my readers to share via e-mail their turning-40 stories. Although I didn't use specifics, their input reminded me (at 54, I needed reminding!) that turning 40 for most of us women is a major thing. We do sit up and take notice. Even younger readers told me how they imagined it would be a turning point. As far as the San Diego setting goes, I relied on personal experience. We lived there in the late '80s and have frequently visited since; as a matter of fact we're moving back there soon. There are snippets of situations drawn from real life, for example my son "finds corners" like Molly's husband; he and his family live in Molly's Oregon "town"; I have friends who are reflexologists. My daughter researched medical details for me.
CB.com:  Do you have a favorite character? If so, why?
John:  Char. All four women's voices were strong in my imagination, but Char's irreverent attitude made her extra fun to write. With her Georgia accent, you simply must read her dialogue in a soft southern belle voice! which added a new dimension for me. I think she made the most drastic, dramatic of decisions, fell the hardest, and had the farthest to come to trust in Christ.
Have something to say about this article? Leave your comment via Facebook below!
advertise with us
Example: "Gen 1:1" "John 3" "Moses" "trust"
Advanced Search
Listen to Your Favorite Pastors