Q&A With "Into the Wardrobe" Author David C. Downing
Staff, Christianbook.com
Friday, December 23, 2005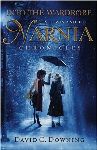 Downing:  Lewis wrote over 40 books in his lifetime, and I think you could make a case that there is something in virtually every one of Lewis's others books that casts new light on the "Narnia" stories. Lewis had a vast and orderly mind, so that ideas he discusses in his scholarly and theological works become embodied and amplified in his imaginative works.
At the same time he was composing the "Chronicles," Lewis was revising his BBC radio talks for publication as "Mere Christianity" (1952). I think the discussion of Christian faith and living in that book is the best guide to the key themes in the "Narnia" series. Lewis discusses the Atonement in that book, a passage that can't help but remind us of Aslan's sacrifice. He also talks about how the Spirit breathes divine life into us beyond our mere physical life, turning us from stone statues into living beings. That analogy reminds us very much of the scene in "The Lion, the Witch and the Wardrobe" where Aslan turns the stone creatures under the witch's spell back into living, breathing creatures.
One can see Lewis's obvious love for the medieval world-view in "The Discarded Image," and we find that world-view embodied throughout all the "Chronicles" -- a world of kings, queens, and nobility; of chivalry and poetry; of star-gazers, mystics, and knights on quests.
CB.com:  Can you recommend some forerunners to the "Narnia" series or some later fantasy books for those who love adventure stories with spiritual overtones?
Downing:  For me, the "Chronicles of Narnia" are in a class all their own. "The Oxford Companion to Children's Literature" rates the Narnia books as "the most sustained achievement in fantasy for children by a 20th-century author." That makes him a writer without too many peers, either before or after him.
I think you can enjoy some of Lewis's predecessors, such as George MacDonald in "Phantastes" and the Curdie stories, or Lewis's successors, such as Madeleine L'Engle or (some would argue) J. K. Rowling. For me personally, these books offer only a fraction of the delight and enchantment I find in the "Narnia" tales. I wish I could find more satisfaction in other fantasy books or secondary materials based on Narnia. But for me, this is too much like trying to substitute carob bars for real chocolate.
I think one of the most exciting recent examples of fantasy with spiritual overtones is Leif Enger's "Peace Like a River." This might be for slightly older readers, but Enger creates a fascinating blend of C. S. Lewis and Garrison Keillor, with a bit of J. D. Salinger and Zane Grey thrown in for good measure!
 


David C. Downing is a leading C. S. Lewis expert, award-winning author, and professor of English at Elizabethtown College in Lancaster County, Pa. His articles about Lewis have appeared in such publications as Christianity Today, Christianity and Literature, Books & Culture, Christian Scholars Review, and numerous other journals. His books include "Planets in Peril," about the Space Trilogy; "The Most Reluctant Convert," a biography of Lewis that was named one of the Top Ten Religion Books of the Year by the American Library Association; and "Into the Region of Awe," a study of the mystical elements in Lewis's life and writings.



Find what you're looking for at Christianbook.com.  Shop for books, Bibles, videos, music, homeschooling resources, software, clothing, gifts and more.  Daily discounts, too! 



Have something to say about this article? Leave your comment via Facebook below!
advertise with us
Example: "Gen 1:1" "John 3" "Moses" "trust"
Advanced Search
Listen to Your Favorite Pastors