Q&A with Kim Meeder, Author of "Hope Rising"
Multnomah Publishers
Tuesday, February 03, 2004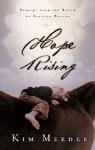 Q: Tell us about Crystal Peaks Youth Ranch, Kim. How did it get started?
A: Crystal Peaks was started by the smile of God. When we rescued our first two horses in 1995, we had no idea that this ranch would be the result. My husband and I watched in awe as kids just started coming.
The horses were not yet broke to ride, so it was obvious that the kids were not coming for what they could get. They were coming for what they could give. In their efforts to make the horses better, the kids themselves became better.
I believe the ranch was started the moment I witnessed a mute girl actually begin speaking to one of our starving horses. A starving horse reaching out to a starving girl, each seeing within the other a reflection of themselves. The needy horse was able to go where no adult had been in years. That's when I knew that I needed to build a haven where trust and hope could flourish.
Q:  What inspired you to write this unique book, "Hope Rising"?
A:  I have had the honor of witnessing so many miraculous events. My heart has been filled to bursting. I love sharing what I have seen.
In the telling of these stories, I have watched as people's lives stopped. Their silent tears begin to fall as they, too, were moved to a place where their own heart was lifted, where their own hope was stirred.
Q:  Are the stories in this book all true?
A:  All of the stories are a documentation of what I have seen. I am simply recounting real events that have happened in the lives of real people. All of the stories in "Hope Rising" are true. I believe that is why the book has so much impact on the lives of those who read it.
Q:  How did you choose the stories?
A:  It was a difficult process choosing among them. The stories that did make it into the book were chosen for their diversity and flow. It is my deep desire that every individual who reads this book will have personal identification with many of the stories. There are several very short, more whimsical pieces that were chosen to simply give the reader an emotional break between the "powerhouse" stories. Sadly, many of my favorite stories did not make the cut into this book due to space restrictions.
Q:  Can you share one of your favorite ones with us?
A:  Wow! That's like being asked to pick your favorite child! All the stories are quite different in what they represent. Yet I would have to lean toward "Perfect Match," "Warm Handshake," "Refuge," "Chosen One," "Miracle," "Hurdles of Life"...
Q:  You have your own story about being rescued from despair by God's gift of a horse. Can you tell us about that?
A:  One of my first riding experiences came on the day of my parents' funeral. At the age of nine, I made the decision that I did not want to go to their memorial service, I did not want to see their lifeless bodies. I chose instead to protect my parents' memory and stay home. I spent that day at my cousins' house riding their horses. A day that for most is a destructive ending became the beginning of healing. Between the love of the Lord and a little horse, my life was saved.
Q:  Will people who aren't particularly excited about horses enjoy this book?
A:  Absolutely! That might be like asking someone who isn't particularly excited about gardening if they enjoy receiving flowers. This book documents triumph and hope. It captures the rise of the human (and equine) spirit over seemingly insurmountable odds. It is a book that will inspire all who read it.
Q:  Who would you most like to reach with this book?
Have something to say about this article? Leave your comment via Facebook below!
advertise with us
Example: "Gen 1:1" "John 3" "Moses" "trust"
Advanced Search
Listen to Your Favorite Pastors