Q&A With "Prints Charming" Author Rebeca Seitz
Staff, Christianbook.com
Tuesday, March 06, 2007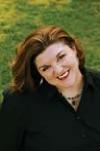 Wife, mother, scrapbooker, p.r. firm owner and writer Rebeca Seitz is the author of "Prints Charming" (West Bow Publishing).
In "Prints Charming," Jane Sandburg turns to her Sisters, Ink scrapbooking friends for support after her divorce. But just when things are looking up – she convinces the girls to turn their hobby into a business and she has a new romantic interest – her ex-husband returns! He says he's changed and won't hurt her again. But can her scrapped marriage be recycled?
In this author interview, Rebeca talks about how she created "Prints Charming," writing, her love for scrapbooking and much more. …
How did you come up with the concept for "Prints Charming"?
You know, I often say that novelists are just socially acceptable schizophrenics. We walk around with characters talking to us all day. I even argue with mine! When the editor at Thomas Nelson told me of the need for fiction geared toward scrapbookers, Jane and Lydia began talking in my head. By the time I got home from my lunch with that editor, there was a full-fledged scene happening. I rushed upstairs to my laptop and started typing – barely able to keep up with those two!
Then, out of nowhere, Jake walks through the parking lot and Jane opens her car door onto him. I thought, "Where'd you come from?" I had no idea at that point he would play such a pivotal role in the story!
I'd like to say I sat down, wrote an outline, and was very organized about the whole thing. But that would be the other voice in my head talking.
Is any part of "Prints Charming" factual?
Oh, wow, what a question. Yes, there are parts of it that are based in reality. The Mari character is based on my best friend, who is from Puerto Rico and now lives in Florida. I was calling Mari all day long for a couple of weeks asking, "What pet name do you have for John? What pet name would you call your daughter? How do I say this in Spanish?" I think I wore her out, but she's so patient with me she never gave a hint of it. Gracias, mi amiga.
Jake is, of course, based on my wonderful romance with my husband. When I needed the scene where Jake gives a gift to Jane, I went to Charlie (my hubby) and described the situation. The AOL cds were completely his idea. He's truly that amazing about speaking to me in my love language – gifts. I tend to need something tangible to hold and point to so that I can say, "There, I know he loves me because I'm holding proof of it in my hand." I guess all of the characters start in the reality of my existence and grow from there. Sol Stein spoke to this in his fabulous book, "Stein On Writing." He tells writers that readers don't want to read about boring, ordinary people. They want to read about extraordinary people or extraordinary circumstances. That's what makes a story compelling and entertaining.
So, I took my ordinary experiences and embellished them to be extraordinary. Suddenly, my brother-in-law sports fan became a sports fanatic and the character of Dale was born, etc.
How closely is "Prints Charming" based on your life?
Well, I'm as much of a scrapbooking nut as these girls. I have a scrapbooking studio here at my house and so do some of my friends and my sister. I LOVE getting together with other women to scrapbook. I can just feel the creativity in the room when we're all focused on creating our layouts or positioning our pictures just so.
When I lived in Nashville, I got together with my two good friends Deonne and Danielle to scrapbook. We'd all get together after work. Danielle would bring her husband and two kiddos and everybody would meet somewhere for dinner – usually O'Charleys because the kids eat free. Then we'd go back to my house to my scrapping studio and scrap until the husbands told us to call it a night. We've all moved away from Nashville now. Deonne's up in Michigan and Danielle's out in Colorado. But we send each other scrapping-related gifts and talk at least once a week. We're even putting together a trip to the next Making Memories sale in Salt Lake City. Now THAT will be fun!
Have something to say about this article? Leave your comment via Facebook below!
advertise with us
Example: "Gen 1:1" "John 3" "Moses" "trust"
Advanced Search
Listen to Your Favorite Pastors