Q&A With "Prints Charming" Author Rebeca Seitz
Staff, Christianbook.com
Tuesday, March 06, 2007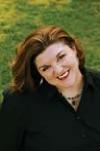 Those are the scenes that my mind captures and spins stories with. I put my book down (it was a Dean Koontz book – man, can he write!) and let my imagination run with all the possibilities of story captured in the scene I had just witnessed. Were they a couple who had been married for decades, weathering the death of their children, retiring here in sunny Naples? Did she have a long-held fear of water that today, for the first time in her long life, she had decided to overcome? Or were they newlyweds? Did they meet two months ago and get married in Vegas? Was he the flamboyant one who fell in love with a shy girl from Florida? So many possibilities!
What are some of the challenges you face as an author?
My main challenge is balance. I own Glass Road PR, the only publicity firm in the country dedicated solely to representing novelists writing from a Christian worldview. Our staff is currently handling about 50 books, which makes for a ton of plates to keep spinning in the air! I'm also a wife and mom who takes her responsibilities and familial blessings seriously. I travel around the country speaking at writers conferences about publicity and meeting with media representatives. Every two months, I go to Atlanta to film the fiction episodes for Deeper Shopping TV, which airs to 55 million homes in Europe and the UK and here in America via Faith TV on the Sky Angel Satellite system. This year, I also start school again to obtain my Masters in Mass Communications. Oh, and we're busily renovating a 107-year-old house we purchased in 2005.
It's a busy life and the opportunities for exhaustion and burnout abound. But I like my life that way – full, crazy, exciting. I have an amazing husband who helps me juggle it all, who brings me cookies when I need a sugar burst and apples when I don't. And, in the odd moment when I stop to think about the flurry of activity that is my life, I'm humbled and amazed that God lets me do any of this. Me, a kid who grew up in a town of 300 people on the family farm! Who wiled away her days hiding out in the barn with a Nancy Drew book in hand! God just astounds me. The very idea that He cared enough to give me breath, to listen to me when I cried out to Him – how could I say no to anything He brings me? When my very existence rests in His hands? I just couldn't. If He deems me worthy of completing a task, then I trust He's got the energy reserves to give me and will dole them out as I need them. For thirty years, he's been doing just that.
Are there any other new projects on the horizon?
Yep! I'm currently working on a series of books for scrapbookers.
What advice would you give to a person trying to become a fiction writer?
Invest in Diet Mello Yello. Seriously. It's the only way to go. Okay, I'm kidding.
I'd tell you to be prepared for a long path and make sure this is what God is calling you to do (not your ego). Fiction writing ain't easy, folks. As soon as you think you're finished, some editor will come along and tell you to re-write the whole thing. Or some reviewer will rip your book to shreds.
If it's a mission God has called you to, though, then those things are just part of the path He has set you on. Thank Him for the lessons He's allowing you to learn in those situations. Be grateful that He's sharpening you because that's what He does with those whom He chooses to use.
What message would you like your readers to take away from "Prints Charming"?
You remember the story of Naomi and Ruth in the Bible? Or Mary and Elizabeth? Do you recall how important those women were to each other? When Mary found out she was pregnant with the Christ-child, she headed straight to Elizabeth to share the good news! We women are given the gift of relationship and I think it's important that we not neglect that gift. I'm more than a mom and wife. I am those things because God made me woman. And part of being woman is being a friend – a good friend – a friend in times of trouble and laughter. My life has been so enriched by my girlfriends over the years and I know that's because, when I chose to believe in Jesus, He promised to show me how to live. How to have life abundantly. Part of that abundance is the bond of sisterhood. I hope my readers will learn about that in Prints Charming and treasure – or form – their own friendships with other women.
What is your goal or mission as a writer?
Oh, shoot. I'm supposed to be organized enough to have goals?! That's it. I quit. Seriously, when I'm writing, I just want to be beside God when I'm typing. I love the mystery of creation – both God's creation of this world and His partnership with me in the creation of the story of "Prints Charming." It's an awesome endeavor to undertake and an extremely cool way to reflect that I'm made in the Creator's image.


© 2007 Christianbook.com. All rights reserved. Used with permission. Find what you're looking for at Christianbook.com. Shop for books, Bibles, videos, music, homeschooling resources, software, clothing, gifts and more. Daily discounts, too!


Have something to say about this article? Leave your comment via Facebook below!
advertise with us
Example: "Gen 1:1" "John 3" "Moses" "trust"
Advanced Search
Listen to Your Favorite Pastors