Q&A with The Candidate Author Robin Shope
Staff, Christianbook.com
Tuesday, May 01, 2007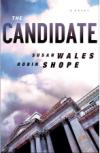 Do you have a favorite character? Why?
My favorite character is the protagonist, Jill. She is resourceful, smart, and knows how to get her way in nearly any situation. Throughout the series, she changed from being a non-Christian, to a Christian filled with hope and strength. In this book, Jill finally knows who she is in the Lord. That is attractive.
How much research did The Candidate take?
The book took a lot of research. We had to learn about scuba diving and how the equipment worked. What lake bottoms looked like . . . what kind of fish would we see? What might we find? What are the maritime laws? We also spent a lot of time reading through Delavan's history trying to find the unique to tantalize our readers. Even in fiction you have to have historical facts correct to make it believable. This helps to pull your readers in to the book.
Is this a series?
Yes, this is the last book in a three-part series.
Do you prefer to write suspense and intrigue fiction?
I love a good mystery! And I write what I love to read.
What are some of the challenges you face as an author?
I face the lack of time to spend writing. Since I teach 8th grade Language Arts, I find myself correcting my student's papers instead of editing my own writing.
Are there any other new projects on the horizon?
There are always new projects for me. Presently I am selling like crazy to magazines. I also have a few mystery books I am working on, and with summer vacation just around the corner, this teacher will be submerged in what she loves to do the most –write!
Who was the person who influenced you the most with your writing?
My whole family influenced my writing. I love oral family history. I would often beg my mom to tell me about when she was a little girl. Years later, I found those same words coming from my own children's lips to me. When a story or two of mine, like my dad setting up our swing set in the basement because he didn't want his lawn ruined, entertained people, I began to write down my stories. And lucky me, being a teacher, I have a ready-made, captive audience.
What advice would you give to a person trying to become a fiction writer?
Write something every day and never give up. Find your voice and know your audience. There are unpublished authors who want their book published without building up a resume of short stories and articles. I am not selective. I will write for anyone as long as I can write. It's part of my DNA. It's what I do.
What message would you like your readers to take away from this book?
Pursue God and your dreams will follow.
What is your goal or mission as a writer?
I hope the reader spends a few fun hours animated in a make-believe world that takes place in a real town. If you walk down Walworth Avenue in Delavan, you just may actually meet some of the people in my book. But don't look for John or Jill. They never lived there. Only I did.



© 2007 Christianbook.com. All rights reserved. Used with permission. Find what you're looking for at Christianbook.com. Shop for books, Bibles, videos, music, homeschooling resources, software, clothing, gifts and more. Daily discounts, too!



Have something to say about this article? Leave your comment via Facebook below!
advertise with us
Example: "Gen 1:1" "John 3" "Moses" "trust"
Advanced Search
Listen to Your Favorite Pastors