Reading: A Wild Ride for Young Minds
Margaret Becker

CCM Magazine

2005

15 Nov

COMMENTS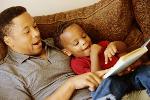 Well it's about time! 
That was the sum total of what I said to my keyboard player of ten years, Jonathan and his wife Amanda. They were having their first baby.
I love babies. They provide one of the few "safe places" in this world to be goofy. Whether it's sputtering nonsense syllables or making faces that your mother warned you about, babies bring out the big babies in all of us.
I've been to a lot of baby showers over the years, and in our highly consumerist world, it's been increasingly difficult to bring an "original" gift to any of them. I found my "groove" though, with Jonathan and Amanda.  I gave them the baby's first library:  books that can be read to kids, and books they will eventually read themselves.
I chose all my favorites, not only the ones I had as a kid, but (small confession) still have as an adult. 
A well-written children's book brings something to everyone, child and grown-up alike. It has unspoken truths woven throughout its playful imagery, and much like a good song, it should be fun to read along with.  There is no better book for a good beat-poet, tongue-twisting romp than "Green Eggs and Ham" by Dr. Seuss. Try this out:
Would you? Could you? In a car?
Eat them! Eat them! Here they are.
You may like them. You will see.
You may like them in a tree!
It speaks itself into its own rhythm, like "Georgy-porgy puddin' pie." Seuss would've been a great songwriter.
But being a kid is not all fun and games, you know. There are those scary "fairy-tale" favorites too, like "The Three Billy Goats Gruff." This one has the requisite bad guy, the Troll, who is just scary enough to be good "flashlight fodder" under the covers but not scary enough for nightmares.
And then, the antidote to trolls and scary things, the book I have loved for decades because of the freeing truth it brings us all:  "The Monster Bed" by Jeanne Willis and Susan Varley. Written in rhyme, with a delightful twist on the fear we've all shared for centuries, the book features a main character who is a monster (Dennis) that fears going to bed at night because there may be humans under his bed. It's a beautiful reminder that fear is often misplaced, and even monsters have feelings.
Pre-counseling, most of our life issues were addressed in "life-primer" books like, "The Little Engine That Could," (persistence, overcoming, self-confidence) "The Tortoise and the Hare" (patience, humility) and "The Giving Tree," (selfishness and the sorrow it reaps).
But nothing beats the plain, old, good, fuzzy read, "Goldilocks and the Three Bears," whose story is about somebody getting in trouble, but not really. A prissy helpless girl wandering into the bear "hood," helping herself to all their stuff – in real life she'd go to jail for that, but here, her punishment is merely being found out.
And so, when you're shopping for your next baby shower, forget the baubles and gadgets that eliminate the human component. Buy a young mind a wild ride on the imaginations of great storytellers; better yet, include a coupon with your library that gives mom and dad a few "date" nights and names you as the story-reading sitter.  In short, liberate your "big-baby" self.

For the Adults ...
Mental Floss

Coping

Fit at Last

Songwriting 101

— Profiles by Andrea Bailey

© 2005 CCM Magazine.  All rights reserved.  Used with permission.   Click here to subscribe.