Real Men, Real Faith: U.S. Senate Majority Leader Bill Frist
Compiled by Gene Williams
Tuesday, August 17, 2004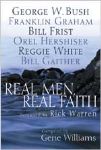 Medical scientists can describe it, but I can tell you they can't explain it.  Physicians can define it, but they can't understand it.  Only God knows. 
Now, let me shift gears and leap to another day.  Imagine flying into the heart of Africa in a single-engine plane, loaded to gross weight with medical supplies, 400 feet above the treetops on the way to a small makeshift hospital in a war-torn Sudan. 
We're flying low to avoid being sighted by aircraft that indiscriminately and regularly bomb the villages below.  We're on a medical mission trip with Dr. Dick Furman, founder of World Medical Mission, and my colleagues from Samaritan's Purse, and international Christian relief organization run by my good friend Franklin Graham.
We land the plane on a dirt strip, drive five bumpy miles along a path past a boarded-up, deserted clinic that has been deserted 12 years prior because of landmines from a prior civil war.  We finally arrive at the dilapidated two-room schoolhouse that was converted months earlier into a health clinic.
Prov. 16:9 tells us "In his heart a man plans his course, but the LORD determines his steps."
Indeed, I came to Washington as a public servant in the U.S. Senate, but after arriving, my steps for some inexplicable reason had taken me far from the floor of the Senate on medical mission trips to Africa – to the Congo, Uganda, Kenya, Tanzania, and the Sudan.  Six weeks prior to our arrival, Samaritan's Purse courageously opened a small medical clinic in southern Sudan where more than two million people have died and more than four million have been displaced by the war.  There is still indiscriminate bombing by an aircraft from the north in the region. 
We perform surgery where there has been no medical care available for more than a decade.  The conditions are very primitive, and there are few surgical instruments.  No electricity.  No running water.  Ether is the only anesthesia.  Patients walk or are carried for days when they hear that we are there, for we are the only source of care for hundreds of miles.  The civil war has driven off all health care throughout the entire southern Sudan. 
The image of that visit I will forever carry with me is of a small, one-room shed next to a schoolhouse that we used as our clinic.  The little building was used as a recovery room for the sick and injured.  But God's power was at work there.
It was late, and we were just finishing the last operation of a long, tiring day – so long that we completed our last operations under hand-held flashlights.  We were scheduled to leave the next day, and I wearily looked forward to returning home.  A message came that a patient – a man from the Dinka tribe whom I had never met – wanted to see me, "the American doctor."  I just wanted to go to bed, but I went.
Dusk had settled in.  I brushed aside the curtain that served as a door.  It was pitch-black dark inside.  As I approached the voice coming from the corner, I saw the vague silhouette of a man lying in bed.  I could see little except the bulky white dressings covering the obvious stump of his left let and injured right hand.  And then I saw his huge smile.  It was a smile that pierced the darkness of the room.
Pulling my eyes from that luminous face, I noticed the Bible beside his bed and then the interpreter sitting at his bedside.  I asked the patient why he wanted to see "the American doctor."  He explained to me that two years ago his wife and two children had been murdered in the civil war.  I nodded sympathetically.  But that captivating smile seemed to grow even bigger.  It was a smile of caring – a smile of love.
His smile seemed to fill the room.  How could he smile after losing those he loved most? 
Have something to say about this article? Leave your comment via Facebook below!
advertise with us
Example: "Gen 1:1" "John 3" "Moses" "trust"
Advanced Search
Listen to Your Favorite Pastors