Real Men, Real Faith: U.S. Senate Majority Leader Bill Frist
Compiled by Gene Williams
Tuesday, August 17, 2004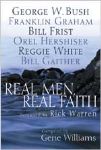 Eight days ago, he said, "I lost my leg and fingers when a land mine exploded."
I nodded, still wondering how he smiled.  First he lost his family, and now his leg and most of his hand.  But his smile grew even broader as we talked about his tragedies.  It was a beautiful, shining light in the night.
Finally, I asked, "Why are you smiling – how can you be smiling?"
For two reasons, he explained.  "First, because you, Doctor; come to us to share in the spirit of Jesus of Nazareth.  And second, because you are a doctor from America." 
I understood the first reason.  But I was taken aback by the second.  In the transplant medical world I'm accustomed to people thanking me for treating their heart disease – but not because I'm an American.
I asked, "What do you mean, an 'American' doctor?"
Lifting his mutilated limbs for me to see, limbs lost fighting for his own religious freedom, he replied, "Everything I've lost – my family, my leg, my hand – will well be worth the sacrifice if my own people can someday have what you are blessed to have in America – freedom.  The freedom to be and to worship as we please."
That moment was an epiphany of understanding for me.  At that moment, in the heart of Africa and in the dark of night and with the words of a man I have never met, I was filled with the enriched perspective that the freedoms and liberties the United States enjoy were obviously not bestowed by people, but have been endowed by our Creator.  Our freedom is not based on anything given to us by government but on those inalienable rights bestowed on us by God.
I've been back to the Sudan on a number of medical mission trips.  I've operated at the same clinic, now much expanded – though still with no running water – and more developed.  I never saw that Dinka man again.  But I'll always carry his smile with me.
That smile and his words echoed through my consciousness as I sat on the West Front of the Capitol at the swearing-in of President George W. Bush in January 2001.  He reminded us of what a gift we have in freedom, and why it is a gift we must share:  "Once a rock in a raging sea, it is now a seed upon the wind, taking root in many nations.  It is an ideal we carry but do not own, a trust we bear and pass along."
How true!  Man's freedom did not begin with America, but we have an obligation to pass it on.  And, as President Bush also reminded us that same day, "His purpose is achieved in our duty, and our duty is fulfilled in service to one another."
But what about John Majors?
As we waited breathlessly in the operating room, I prayed that the new heart would be infused with life.  The room was silent.  No one moved, and all eyes were focused on the motionless, lifeless heart in John's chest. 
Suddenly the still heart began to quiver ever so little.  Then the quivering began to coarsen into a stronger and stronger ripple.  It was coming.  Then … oomph!  The heart suddenly jumped and took a strong and powerful squeezing thrust.  In that fraction of a second, the bold, comforting rhythm of life was reborn.  Another miracle.  Another blessing.  And it had all started with a gift.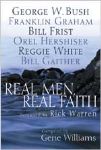 Taken from "Real Men, Real Faith" compiled by Gene Williams.  Copyright 2004 by Beacon Hill Press of Kansas City.  Published by Beacon Hill Press of Kansas City, Kansas City, MO.   Used by permission.
Gene Williams served as a pastor in the church of the Nazarene for 47 years. He has authored 9 books, including "Living in a Glass House: Surviving the Scrutiny of Ministry and Marriage" and "Living in the Zoo and Loving It!" He and his wife Joyce are founders and directors of Shepard's Fold Ministries, a ministry of encouragement and affirmation to pastors and their families. Gene and Joyce speak in many settings in the U.S. and internationally including special assignments with the Billy Graham Evangelistic Association. They reside in Wichita, Kansas.
Have something to say about this article? Leave your comment via Facebook below!
advertise with us
Example: "Gen 1:1" "John 3" "Moses" "trust"
Advanced Search
Listen to Your Favorite Pastors