Red, White and Blue
Laura Hayden, Author
Friday, March 20, 2009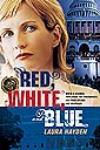 EDITOR'S NOTE: The following is an excerpt from Red, White and Blue by Laura Hayden (Tyndale House).
Chapter 1
Kate Rosen sat on the edge of the stage, the large hotel ballroom stretching beyond her, long emptied of people. The only things left behind were the detritus of a grand night of celebration—balloons skimming over the carpet, trampled paper streamers, discarded signs, and swags of limp bunting that sagged against the walls.
No more cameras, no strobe lights, no cheering throng.
The exuberant but exhausted audience had finally faded away hours earlier, the journalists following suit shortly afterward. America had finally gone to bed, either celebrating or lamenting the fact that that they'd just elected their first female president.
Kate cherished the silence. She needed someplace where she could collect her thoughts, which had been shattered tonight. She'd discovered things she could hardly believe even still about her best friend. And she'd been disillusioned in a way that nobody, even a politician's top aide, was prepared to be. Her headache and heartache had been made worse by the oppressive crush of supporters commemorating their candidate's—her candidate's—triumph. Once Emily and her entourage, minus Kate, went upstairs, the party had finally broken up and the ballroom's capacity crowd started to stream home for their own private celebrations.
But Kate's ears still rang with the sound of more than a thousand people cheering, screaming their support of their candidate.
"Benton! Benton! Benton!"
Emily Rousseau Benton, former governor of Virginia, Kate's best friend, had been elected president of the United States, in no small part due to Kate's hard work. Emily's race for the White House had dominated both of their lives for the past four years. Everything Kate did, every action she took as Emily's campaign manager, had been done solely in support of her friend's bid for the presidency.
And now that Emily had won, Kate was alone, horrified at the prospect that she might have made a terrible mistake.
She slipped down from the stage riser and kicked idly at the balloons in her path, creating a slight rippling effect across the bubbled mass of them. An occasional balloon still floated down from the ceiling, a day late and a dollar short.
Kate's most recent revelation had been like that, one day too late. . . .
"Hey, Kate."
A lone voice penetrated the silence. She stiffened in surprise and raised her hand to shade her eyes and get a better look at the person standing on the balcony. Her mood lightened and her shoulders relaxed when she realized who had spoken.
"Hey, Wes."
"Y'all all right? Need some company?"
She nodded.
It was a classic Southern salutation, and the familiarity of it was oddly comforting. Then again, Wes Kingsbury always knew what to say—he was equal parts her friend and her spiritual mentor. Disappearing into the shadows, Wes emerged a few moments later from the staircase leading to the balcony box.
Kate glanced at her watch and stifled a yawn—3:46. That was a.m. Too early to be called morning, too late to be called night. The true dark hours of the human soul, when body rhythm and spirit were at their lowest point.
"I can't believe you're still here," she said. The man had a wife and a small child, a real world and home to which he could return. He hadn't closed his life down to a single obsessively sought goal. That had been her mistake.
"And I can't believe you're not upstairs. M's still up in the suite, partying hearty."
Have something to say about this article? Leave your comment via Facebook below!
advertise with us
Example: "Gen 1:1" "John 3" "Moses" "trust"
Advanced Search
Listen to Your Favorite Pastors