Red, White and Blue
Laura Hayden, Author
Friday, March 20, 2009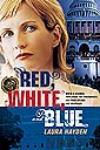 She kicked at a balloon, stirring up a small whirl of color. "I know. I'm not in much of a party mood."
"So I see." He fell into step next to her. "What's going on? I would have thought you'd be thrilled. This was the goal, right?" He pointed to an abandoned placard: Benton/Bochner '08.
"It was. It is." She couldn't help but shiver. "It's complicated."
"It's Emily. It's always complicated." He chuckled, then sighed. "Okay, what has she done now?" At Kate's hesitation, he added, "It's got something to do with Talbot, doesn't it?"
Charles Talbot had been Emily's opponent in her race for the White House. As such, he'd pulled out all the stops to find all the dirt he could on his challenger. Kate, as Emily's friend and ally for more than twenty years, had been positive there was no dirt to be found.
She'd been so wrong. . . .
Talbot's investigators discovered that Emily's family had illegally won important highway construction contracts in Virginia while Emily was the state's governor.
When Kate learned his camp was prepared to release this information, the only way she could stop him was to explain to him exactly the unsavory facts that her own investigations had uncovered on him—details she'd kept out of Emily's hands.
The last thing Kate had wanted was her friend to strike an ill-timed and unnecessary first blow—using a nuke when a nudge would have worked just as well. She'd learned the hard way that Emily, though a talented politician, wasn't exactly good at being subtle when she had a bigger weapon handy. But when Talbot made his big, bold move to not only discredit Emily but take down her family by attempting to dismantle the entire Benton legacy, Kate had intervened by threatening to use her opposition research.
Talbot had killed . . . and Kate felt that she had no choice but to remind him of the lengths to which he'd gone to cover up his own crimes. She had the bloody proof that he'd been criminally negligent, if not morally responsible, in the grisly death of his college girlfriend. Talbot might have maneuvered his way out of the scandal, but Kate had the goods on him—incontrovertible evidence.
If released to the public, her evidence would have been sufficient to end his campaign, destroy his reputation, and possibly land him in jail for a long, long time. Talbot saw the light and backed down from his threats.
So Talbot had been stopped. The situation had served to cement Kate's resolve that Emily Benton would make a far better president than her opponent. Emily was a policy wonk who knew her stuff, she was talented at getting things done, she worked hard for the people she represented, and she was charismatic enough to persuade even those who opposed her to allow time for her ideas to have a chance to work. In other words, Emily was the best politician of her time.
However, Kate soon learned not only that her actions had made Talbot her enemy for life, but also that no one ever wins in a competition of "who has the best blackmail" because the games like that never end. She'd felt sickened, soiled, and finally betrayed.
Kate drew a deep breath. "Emily found out."
Wes straightened for a moment. He'd been one of only two confidants who knew the sins of both candidates, other than the candidates themselves.
"About . . ." Wes paused and glanced around as if gauging the likelihood of being overheard. Even though no one was in sight, he kept his voice low. "About the ammunition you had? How?"
"I told her I'd stopped Talbot, but I refused to tell her how. I didn't think she needed to know. So in the middle of the night, my best friend M sent one of her protégés to 'borrow' the report from me."
Have something to say about this article? Leave your comment via Facebook below!
advertise with us
Example: "Gen 1:1" "John 3" "Moses" "trust"
Advanced Search
Listen to Your Favorite Pastors