Red, White and Blue
Laura Hayden, Author
Friday, March 20, 2009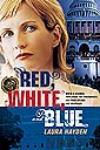 "'Protégés'?" Wes's gaze narrowed. "Maia," he said in a flat voice.
Kate nodded. "Our very own ingenue in training." She stared across the vast ballroom, watching a piece of bunting as it slipped from the balcony railing and wafted gently to the floor. "Though apparently she's more iron maiden than ingenue. Scruples don't seem to concern her. I rip my heart out every day, trying to find the right balance between my Christian convictions and loyalty to my country and to my friends—especially Emily. I want to make a difference in the world, make people's lives better. I don't always like how I do it. Maia didn't have a second thought when Emily asked her to steal the reports from me in the middle of the night. She made copies, then replaced the originals so I wouldn't know. Then Emily had Maia contact Talbot with what you'd call a very thinly veiled threat."
Wes read between the lines. "Destroying any hope of the campaign staying out of the gutter."
"Yeah. But then came the weird part. It did—stay out of the gutter, I mean." A shiver coursed up her spine and she crossed her arms in an effort to combat it. "Buttoned up tighter than Fort Knox. Maybe my way wasn't effective enough. Maybe Emily's decision to send him a second threat was the only real way to stop him." A second tremor joined the first, and Kate knew it wasn't because she was cold. "Maybe I was wrong. Or maybe I'm in the wrong business. Or maybe I'm simply overreacting."
"Or maybe not."
They took several more steps through the remains of the revelry before Kate stopped. She reached down and rescued a placard bearing Emily's likeness.
"In any case, I don't know . . ." She hated how her voice broke when she spoke. "I don't know if I can stay. If I can continue working with her. She lied to me, stole from me. Maia actually expected me to be impressed by their cleverness. Emily knew better. But she set it up anyway." She studied the picture plastered across the placard. Emily's resolute smile looked effortless despite the fact it'd taken the photographer over two hours to capture the perfect expression.
"You have very high standards for your behavior." Wes took a few more steps, then stopped, pivoting to face her, his hands jammed in his pockets. "Emily's a lot more flexible; she's a big proponent for 'the end justifies the means.' You know that. I know that. The question is, can you tolerate that? Jesus himself said, 'Render unto Caesar that which was Caesar's.' But there have to be consequences when a person crosses the line. Nobody's above the law, not even Emily—though she'd probably argue that point. The big question you have to answer here is what is the right thing for your faith and the right thing for the world. Think hard about that and then move forward. I'll pray for you. I know it's going to be a tough decision."
Kate looked up from Emily's compelling expression, the look in her eyes that said, You know you can trust me. "A decision I was hoping you'd help me make."
To her utter surprise, Wes shook his head. "Nope."
"But—"
He raised his palm to stop her. "Hear me out. I'm always willing to offer advice, lend a hand or even a shoulder, but when it comes to something like this, you need to work with a higher authority." He pointed upward.
Kate managed to conjure up a tight smile. "Somehow, I don't think you mean President-Elect Benton in the penthouse suite."
"Nope. A lot higher."
***
Have something to say about this article? Leave your comment via Facebook below!
advertise with us
Example: "Gen 1:1" "John 3" "Moses" "trust"
Advanced Search
Listen to Your Favorite Pastors