Red, White and Blue
Laura Hayden, Author
Friday, March 20, 2009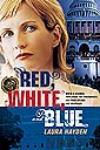 Dozier's ruddy complexion deepened. "Of c-course not, Emily. . . . I mean . . ." He pulled awkwardly to his feet, away from his aide, and managed a small stiff bow without falling over. "Madam President."
The room went silent, no one quite sure what direction Emily's response might head next.
"I've never really liked being called 'madam.'" After a tense millisecond, Emily allowed a smile to spread across her face. "But I guess I'll get used to it, if president gets to follow."
Dozier, freed from the sharp conversational hook on which he'd impaled himself, offered a weaker version of her smile and lifted the drink he'd never lost grip of. "Hear, hear."
With the momentary tension broken, the room went back to its earlier state—celebrating people clustering in small discussion knots. Dozier's aide, a young man whose name was neither Percy nor Perry but Zack, distracted Dozier with something shiny, giving Kate a chance to escape. Once again, Emily gestured for Kate to follow her and led to the bedroom portion of the suite.
Once the door was closed behind them, Emily gave her a warm hug. "I was starting to get worried about you." She gave Kate a close scrutiny. "Honey, you look like the weight of the free world is still on your shoulders. But the campaign's over. We won. You can afford to relax now."
"No. I can't." Kate said. She bit her lip before her words started pouring out, uncontrolled and bitter. She wanted to be completely in control of her emotions before she confronted Emily.
Emily sighed, obviously ignorant of the battle brewing inside Kate. "I know. I feel the same way. Campaigning is hard work, but nothing compared to running a country." She dropped to the bed. "If I allowed myself a chance to stop and think about what I'm taking on, I'd probably run out of this hotel screaming like the Madwoman of Chaillot.
"Remember when we went to New York on spring break back when we were in school? How we jumped on our beds at the Waldorf-Astoria hotel and had a pillow fight? Mom was horrified, but Dad told me that he hoped I'd never get too old to bounce on the bed."
"Yeah," Kate said. Decades of memories came crashing down upon her. Room service, going to plays, Emily's genuine pleasure at sharing the treat with her friend. The phrase had become an inside joke, a motto for that trip and later, the watchwords for those times when the responsibilities of law school—and beyond—threatened to drag them down.
When Nick and Emily got married, their gift to each bridesmaid included a sterling silver box engraved with that motto. Kate still had that box sitting in a place of honor on her dresser.
"Well?" The next president of the United States, the Honorable Emily Rousseau Benton, took off her shoes and took a few experimental bounces on the bed as if to test the bed's recoil potential.
"Not today." Kate tried to smile, desperately wanting to recapture that same sense of giddy accomplishment that Emily evidently felt. Kate had indeed expected to feel a sense of joyous triumph when thinking ahead to this day. But now her heart was too heavy, her mind too burdened with the difficult decision that lay ahead of her.
Emily stopped jumping, the bed undulating in her wake. "Why not?" she said. The confusion that initially filled her face dissolved into an expression that Kate couldn't quite understand. Then it passed almost immediately to a tight, guarded smile. "You have a point. I need to be dignified. Somehow, I don't think the White House curator is going to let anyone jump on the bed in the Lincoln Bedroom. Not you. Not even me."
"That's not what I meant."
Have something to say about this article? Leave your comment via Facebook below!
advertise with us
Example: "Gen 1:1" "John 3" "Moses" "trust"
Advanced Search
Listen to Your Favorite Pastors