Red, White and Blue
Laura Hayden, Author
Friday, March 20, 2009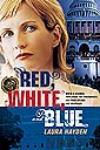 Emily locked eyes with her for a moment. Then she turned away, unable to hold the contact for long. A Benton never crumbled under pressure. A real Benton dodged it. The president-elect slid off the bed, pulled on her heels, and straightened her skirt. She didn't meet Kate's gaze.
"You're right. We're both exhausted. You've always dealt with exhaustion in different ways than I do. Why don't you take off a—"
"I'm exhausted. But that's not the problem. I'm confused. Angry. And I'm disappointed in you." Kate's heart took the extra beat it always did when she made the final decision to confront her best friend. "You didn't need to send Maia to steal the files from me. You should have talked to me about it."
"Oh." Emily spoke in a low, even voice. "You found out about that?"
Kate nodded.
"I didn't send her," Emily said. "She did that on her own, trying to curry my favor."
Kate didn't know whom to believe. She knew Emily better than she knew herself in some ways. Emily was brilliant, capable, the best person imaginable to have around in an emergency. She was a born leader. But part of that leadership tool kit was that she would also stop at nothing when she wanted something. Of course, Maia was cut from the same cloth. Emily's words were plausible. "So did the favor currying work?" She tried to keep any emotion out of her voice. "Did she make a big impression on you?"
"Yes, but it was a mixed bag. I thought Maia showed a remarkable amount of initiative, but I told her that she'd chosen the wrong person to cross."
"But that didn't stop you from reading the reports, did it?"
"Of course not. I'd have been a fool to lose that unexpected opportunity. I'm no fool. You know that."
"Yes, I do. And I guess that's why you instructed her to send the threatening e-mail to Talbot. Were you just taking advantage of another unexpected opportunity?"
"Sure. It seemed the wise thing to do at the moment. He was a loose cannon. He needed to be locked down."
"And now? Are you still glad you did it?"
Emily collapsed on the bed, her ice queen facade shattered. A single tear trickled down her face, leaving a glistening trail through her perfect makeup. "No. I regret it more than you'll ever know." She bent her head, trying desperately to hide the additional tears, but a sob tore through her, making her shoulders shake.
Kate almost gaped at her friend. She'd seen Emily's crocodile tears before. But they didn't look anything like this. This was the real thing.
Real emotion. Real regret. . . .
Emily continued. "Mind you, I didn't hate what I did to Charles Talbot. He's a pariah, an abomination. A murderer. He should never have been able to get away with driving that car while drunk, and leaving that poor girl behind, still clinging to life, to take the rap for his actions. Had he gotten her help at the time of the accident, she might have survived the crash as something other than a vegetable. But no, he had to save face, run away, pretend nothing had happened. He left her to die in that car. It took hours for anyone to discover the wreck. Then he had the audacity to bribe and threaten people into giving him an alibi. He had to make everyone think she'd been the one driving while intoxicated, even if it killed her. He's the lowest of scumbags. I won't apologize for pricking whatever fragments he has left of his conscience. I'm pretty sure all I did was dent his enormously bloated and unconscionable pride."
Emily's flare of anger dissipated quickly, as if she suddenly felt guilty of failing to be remorseful for her own actions. Kate knew that, for Emily, anger was an emotion easier to understand and embrace than remorse. Especially when she felt that anger was righteous. Emily could move mountains when she had on a full load of righteous anger. Kate had seen her shame an entire state legislature into voting for health insurance for disadvantaged children, all because she'd vented her anger into a biting five-minute speech to them.
Have something to say about this article? Leave your comment via Facebook below!
advertise with us
Example: "Gen 1:1" "John 3" "Moses" "trust"
Advanced Search
Listen to Your Favorite Pastors