Risk
Kenny Luck, Author
Saturday, May 10, 2008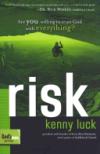 EDITOR'S NOTE: The following is an excerpt from Risk by Kenny Luck(WaterBrook Press).
Chapter 1: Inner Turbulence
The only adequate answer to an aggressively pagan world is for Christians to recover the New Testament power of spiritual aggression.
—KARL BARTH
"I am firing myself."
The chairman of our company returned my statement with a blank stare.
My professional freefall had begun. It picked up even more speed when the second most frightening sentence I have ever uttered escaped my mouth.
"I sense God calling me to work with men on a full-time basis." I didn't know exactly what it looked like, but I wanted to help churches connect their men and grow strong men's communities. Yet again, no response.
A voice in my head filled the silence. That sounded even more stupid than firing yourself… In fact, it was idiotic. This little ministry venture of yours will cause major problems for your wife.
Man, was that true! Before I knew it, I was in a war zone, fireworks of fear exploding in my head.
• Boom! You are the CEO of your company with 265 great employees.
• Kaboom! Annual revenues hit eight million this year.
• Pop! Pop! You've worked your way to the top over the last nine years, from a marketing assistant to running the show!
• Bang! You have a robust 401(k) deal going and are fully vested.
• Waboom! You have a deferred compensation package that guarantees you thousands of extra dollars per year if you'll just stay with the company.
• Shabang! You have stock options.
• And for the finale! Chrissy is feeling financially secure for the first time in twelve years of marriage! After spending the last few years becoming debt free, do you really want to press the nuclear hot button of your marriage?
Then the counterthought: You know what you need to do. You just have to get off your blessed assurance and do it.
Oh yeah, I forgot about that, Lord—The soldier who dropped that God-bomb on me was my pastor. The day before, his words had come thundering from heaven, waking me out of my stupor. After a year of debating God's call about when to start my nonprofit ministry, the answer had come. I had been praying for clarity, and now, finally, here it was, clear as day, in bright, fluorescent green.
But where was that confidence now? Instead of feeling like Elwood from the Blues Brothers "on a mission from God," I felt more like Minnie Mouse and my fingernail polish didn't match my skirt, if you know what I mean.
Then my boss's mouth finally opened. "Kenny," he began. Oh, mama. Here it comes. "I am so excited for you. What can I do to help you with this transition?" I stood there paralyzed, unable to respond.
"Well," he said, answering his own question, "since you've been with the company for nine years, I can make sure you get a nine month severance. And if you want, you can house your new venture out of the corporate office rent free."
Holy #%$*! I mean, cannoli!
Well, I used that severance to help launch Every Man Ministries (EMM) in the spring of 2000. God is using the EMM team to help spark a revolution in men's ministry, spiritually freeing hundreds of thousands of men and igniting the church worldwide through conferences, campaigns, pastors' trainings, books, and resources.
Charles Spurgeon expressed, for all men who dare to be obedient, the untold power of a small decision for God when he observed, "We do not know all that we are doing when we risk for our faith. Great wheels turn on little axles." Yes, my brotha! I had no idea how big a small decision to do what God was asking me to do would be for my own life, and eventually for countless other men.
Have something to say about this article? Leave your comment via Facebook below!
advertise with us
Example: "Gen 1:1" "John 3" "Moses" "trust"
Advanced Search
Listen to Your Favorite Pastors