Risk
Kenny Luck, Author
Saturday, May 10, 2008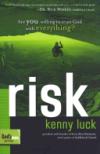 He called a little child and had him stand among them. And he said: "I tell you the truth, unless you change and become like little children, you will never enter the kingdom of heaven. Therefore, whoever humbles himself like this child is the greatest in the kingdom of heaven." (Matthew 18:2–4)
What would this mean to you? What qualities would you as a man need to recapture from your boyhood to shape your masculinity in Christ right now? Eager to trust. Eager to risk. Eager to "jump off." Risk is in the DNA of every man, put there by God and for God. You may have misplaced it, neglected it, misused it, but it is time to get it back. It is time to do something great for God with it right now. This means committing to the four principles of RISK for every God's man.
Here they come…
Right View of God
Is He or isn't He? God, that is. Sounds silly but I am dead serious. Both the root of our fears and our courage to risk hinge on our view of God. A. W. Tozer was on the mark about us when he said, "Were we to extract from any man a complete answer to the question, 'What comes into your mind when you think about God?' we might predict with certainty the spiritual future of that man." It makes perfect sense. The most important thing about us is our concept of God.
Is He omnipotent or impotent? sovereign and aloof ? omnipresent and available? high and lifted up or familiar? punitive or kind? faithful or flaky? loving or vengeful? Just or unjust? able or unable to make a difference? creator or kill-joy?
When our concept of Him is diminished, so is courage for Him. But if our concept is correct, we become unstoppable for the kingdom. So how big is your God? The answer to that lies not in your words but in the substance of your actions for Him. If you know He is who He says He is, you will risk big. Little God? Little risk. Little love for God? Little love for people. The connections are endless.
Your concept of God is so important that when it is off, you suffer, your relationships suffer, and your mission for God in the world suffers. Wrong notions rot moral courage. Right notions produce radical actions. In fact, no man's life for God will ever outperform his view of God. That is why Jesus feared no man. He saw His Father clearly and lived confidently.
They came to him and said, "Teacher, we know you are a man of integrity. You aren't swayed by men, because you pay no attention to who they are; but you teach the way of God in accordance with the truth." (Mark 12:14, emphasis added)
What about for you? No person, no obstacle, no dream, no problem, no fear, and no issue in your life is bigger than your God. If He wants something to happen, nothing can stop it. And if it doesn't happen at all or the way you envisioned, His purpose will be worked out another way. Brother, that's freedom! You cannot lose. His faithfulness and purpose will always prevail. If you see God for who He is, you will gamble hard on His way, just like Jesus did.
As we start to think about risking more for God, we have to guard our minds against thoughts that diminish the reality of His majesty and power.
Identity Settled
When you know who you are, taking big risks makes sense. But you, man of God, flee from all this, and pursue righteousness, godliness, faith, love, endurance and gentleness. Fight the good fight of the faith. Take hold of the eternal life to which you were called when you made your good confession in the presence of many witnesses. (1 Timothy 6:11–12, emphasis added)
Paul knew that the quickest and most effective way to pull greatness out of his pupil Timothy was to remind him of who he really was. He might be tempted to pretend to be someone else, but Timothy was God's man—that was his identity.
Have something to say about this article? Leave your comment via Facebook below!
advertise with us
Example: "Gen 1:1" "John 3" "Moses" "trust"
Advanced Search
Listen to Your Favorite Pastors