Risk
Kenny Luck, Author
Saturday, May 10, 2008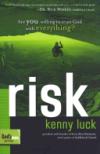 His mentor knew that his identity shaped his loyalty and that loyalty is what drives our choices. In Timothy's life it meant fleeing inconsistent identities, fighting hard for what he believed, and being loyal to his calling as God's man.
In the same way, Jesus pulled His guys in tight to emphasize that their identity meant lining up on the right side of the ball. "If you belonged to the world," He said, "it would love you as its own. As it is, you do not belong to the world, but I have chosen you out of the world. That is why the world hates you" ( John 15:19, emphasis added). The crystal clear message: blending in with the world is not the mark of His men.
Here's a spiritual fact: we risk more for God when our identity is firmly in God. Today, His Spirit is confronting all His men everywhere with the same question: "Are you on this team?" Jesus made a habit of confronting guys posing as believers (as opposed to risking as believers) by asking: "Why do you call me 'Lord, Lord,' and do not do what I say?" (Luke 6:46). In other words, "Identify with Me fully; don't just pay lip service."
No faking it. Flip the question over and you get the solution: if we call Him Lord, Lord, we will risk it all to do what He says. And every time we choose Christ, our identity becomes more deeply imbedded in Him. To risk more for Christ we need to be squarely in Christ. No wavering.
So decide now where your identity and loyalty will lie if you want to experience
maximum connection with God and His purposes.
Sacrifice Like Christ
These famous words of martyred missionary Jim Elliot make him the patron saint of spiritual guts in my book: "He is no fool who gives up what he cannot keep in order to gain what he cannot lose." In a single sentence he captures the essence of what it means to risk spiritually. At some point we stop caring about earth in order to populate and invest in heaven. In Elliot's case, he traded his bride, his career, and ultimately his very breath for Jesus' sake and for the sake of the gospel. He lost his life to gain his life. His talk of sacrifice was matched by a life of sacrifice.
And while few of us will be called to give our lives, millions of us will be called to sacrifice our wills for His will, material wealth for spiritual wealth, earthly recognition for heavenly recognition, carnal appetites for godly appetites, career dreams for God's dream, corporate ladders for family health, and convenient compromise for spiritual integrity. Sacrifice and suffering loss for the sake of our faith is what connects the God-Man and God's man.
In bringing many sons to glory [your name implied here], it was fitting that God, for whom and through whom everything exists, should make the author of their salvation perfect through suffering. Both the one who makes men holy and those who are made holy are of the same family. So Jesus is not ashamed to call them brothers. (Hebrews 2:10–11)
Jesus was made fit to lead us through suffering. Naturally, if He lives in you, God will continue to make you fit to lead by calling you to a sacrificial life. More important, sacrifice for Christ is what unites you most deeply with Christ. How else could the apostle Paul write, "I want to know Christ and the power of his resurrection and the fellowship of sharing in his sufferings" (Philippians 3:10, emphasis added)?
Risking for God is synonymous with sacrificing for God, and it is not a burden; it is a privilege as God's man. It is a special bond we share with Christ and part of our worship. We lay our lives on the altar so He can use us mightily for His work.
Men who dare greatly for their faith have asked and answered this question: Am I willing to sacrifice my agenda in order to be used for God's agenda?
Have something to say about this article? Leave your comment via Facebook below!
advertise with us
Example: "Gen 1:1" "John 3" "Moses" "trust"
Advanced Search
Listen to Your Favorite Pastors