Risk
Kenny Luck, Author
Saturday, May 10, 2008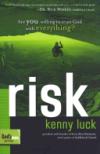 Kingdom-Build
When your view of God is right, your identity as God's man is settled (as in, no more competing identities), and you are willing to sacrifice your agenda for His service, it's time to build something that will outlast you. It's time to invest in something you can't take with you but something you can send ahead to eternity. It's time to get busy building the kingdom of God right where you live, in your local church, and in your world. It's time to start thinking outside the box and dream—dream big God dreams.
The kingdom doesn't need more religious guys. It requires more big, hairy, audacious dreamers. Think I'm playing you? Listen to Jesus describe the kind of man God uses for breakthrough works of His Spirit in the world. Could He be talking about you? From the days of John the Baptist until now, the kingdom of heaven has been forcefully advancing, and forceful men lay hold of it. (Matthew 11:12, emphasis added)
As soon as John started talking about a Messiah, the battle line was drawn. Men throughout the centuries have been challenged to cross that line, out of comfort and into risk for their King. Forceful men have been moved from within with God's vision for kingdom expansion.
And even today, forceful men still hunger and thirst for the kingdom of God to explode in people's hearts wherever they may be. The kingdom mentality is not for the spiritually timid; it is for the man of war. And it is about winning—souls, communities, people in desperation, countries in darkness, and all the particular battles of your world.
It's about winning men you know to join forces and affect the course of history.
I had a missionary from Kenya write me recently about the AIDS and orphan epidemic in his country. His assessment on the ground gave me a glimpse of the global impact men have and a template for the solution in many cultures: "Here in Kenya," he said, "we don't have an AIDS problem; we have a man problem." He went on to describe how migrant labor forces men to seek work in cities far from home: they sleep with prostitutes, then come back and infect their villages with the virus. He begged me to come and join him to bring men's ministry rather than medicine. Africa needs men who make things better, not men who make messes—Africa needs leaders.
He finished by saying, "If men start making different moral choices, the country will change." How many other communities around the world could say the same thing? From leading nations to providing for families, men are needed to plant churches, equip future leaders, assist the poor, care for the sick, and educate the next generation.
A vast army is being raised, and troops are being delivered to global hotspots in record numbers. For example, Rick Warren's Global PEACE Plan network is mobilizing one billion believers to "go" as Jesus commanded and slay these global giants. The deployment has already begun.
Over the next couple of decades it will be the most powerful show of force the church has mounted in history. And men will be at the center of this movement. The biggest needs will be met not by politicians, by the United Nations, or by throwing money to poor countries. They will be met by God's people. Rick believes, as I do, that our team has the widest and best distribution network in the world—it's called the church.
And the world is waiting for its redeemers (little r) who can tell the good news of the Redeemer. Men will be the tip of the spear on many fronts of this titanic kingdom advance.
Will you be in play?
Stepping Off Spiritual Ledges
"Dad," Ryan said, "Jenna wants to jump off."
"What?"
"She said she wants to jump into the ocean."
Disbelieving, I asked Jenna myself to shake her into reality. "Jenna, you want to jump off that ledge with me into the ocean?"
Have something to say about this article? Leave your comment via Facebook below!
advertise with us
Example: "Gen 1:1" "John 3" "Moses" "trust"
Advanced Search
Listen to Your Favorite Pastors