Risk
Kenny Luck, Author
Saturday, May 10, 2008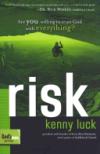 "Yep." It seemed desire trumped dissuasion. Ryan and I were having too much fun to resist, she was watching, and there was no height requirement.
"Great! Let's go," I said, half expecting her to bail out once she looked down.
Not a chance.
The drop into the ocean was seven times higher than my little princess was tall. And I need to emphasize "princess." Jenna's world is that of Polly Pocket, Groovy Girl dolls, ballet, art class, and Dora the Explorer—not dropping into quarter pipes like her older brother or diving into the ocean from a twenty-foot ledge. Jenna's previous record height was two feet of elevation in a backyard pool. So for her, this was a titanic leap into the deep blue.
"One. Two. Three. Go!" On the "Go!" signal Jenna jumped off, dropped twenty feet straight down in all of one and a half seconds, and then plunged five feet underwater.
After surfacing, she used her first breath to exclaim with a huge smile, "That was fun, let's do it again." Of course, right?
This became more than a cute story or proud parenting moment as we climbed that ladder out of the ocean and started walking up the stairs for round two when I asked her, "So what were you feeling before you jumped off, Jenna?"
"I was scared," she confessed, "but then I just told myself to calm down. I kept telling myself everything will be all right because I am with my dad."
Some of the spiritual ledges you'll see in the coming pages have the potential to strike real fear into you. But there is no fear in risking spiritually and trusting God, who is bigger than your fear of stepping off. Your Father is with you to take you safely off the ledge into the unknown waters of His will and escort you safely to the next jumping-off point. In the chapters that follow you will learn how to safely jump into the risky waters of:
• fierce loyalty
• singular obedience to God's Word
• abandoning approval
• dangerous service
• killing sin
• aggressive honesty
• man-zone responsibility
• freedom through authentic friendships
• imitating Christ
• speaking boldly in the moment
• changing another's life
• accepting pain
• powerfully masculine emotions
You will be reading many stories about God's men—ones who stepped out in faith and others who shrank back in fear. You will see how a life of risking for God leads to freedom and how risking less leads to bondage.
You'll definitely laugh. You might cry. You might fall to your knees in the middle of a chapter. Whatever you might feel or be motivated to do as a result of this journey toward courageous faith—listen to God and know that many of your brothers around the world are fighting this same battle to trust God in bigger ways.
Ready to jump? Then take your Father's hand, thank God for that feeling in the pit of your stomach, start turning these pages, and start living the way you were created to live—daring greatly for God.


From Risk. Copyright © 2008 by Kenny Luck. Used by permission of WaterBrook Press, Colorado Springs, CO. All rights reserved.
Have something to say about this article? Leave your comment via Facebook below!
advertise with us
Example: "Gen 1:1" "John 3" "Moses" "trust"
Advanced Search
Listen to Your Favorite Pastors