Riven
Jerry B. Jenkins, Author
Tuesday, July 22, 2008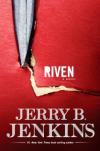 EDITOR'S NOTE: The following is an excerpt from Riven by Jerry B. Jenkins (Tyndale).
PART ONE
Adamsville State Penitentiary
Death Row
With the man's first step, the others on the Row began a slow tapping on their cell doors.
The tiny procession reached the end of the pod, and the rest of the way through security and all the way to the death chamber was lined on either side with corrections officers shoulder to shoulder, feet spread, hands clasped behind their backs, heads lowered. As the condemned reached them, each raised his head, snapped to attention, arms at his sides, feet together.
What a tribute, he thought. Who would ever have predicted this for one who had, for so much of his life, been such a bad, bad man?
October, seventeen years earlier
Touhy Trailer Park
Brady Wayne Darby clapped his little brother on the rear. "Petey, time to get up, bud. We got no water pressure, so . . ."
"Again?"
"There's a trickle, so give yourself a sponge bath."
"Ma already gone?"
"Yeah. Now come on. Don't be late."
At sixteen, Brady was twice Peter's age and hated being the man of the house—or at least of the trailer. But if no one else was going to keep an eye on his little brother, he had to. It was bad enough Brady's bus came twenty minutes before Peter's and the kid had to be home alone.
Brady poured the boy a bowl of cereal and called through the bathroom door, "No dressing like a hoodlum today, hear?"
"Why's it all right for you and not for me?"
Brady closed his eyes and shook his head. "Just do what I say, okay?"
"Whatever."
"Straight home after school. I got practice, so I'll see ya for dinner."
"Ma gonna be here?"
"She doesn't report to me. Just keep your distance till I get home."
Brady rummaged for cigarettes, finally finding five usable butts in one of the ashtrays. He quickly smoked two down to their filters, tearing open the remaining three and dumping the tobacco in his shirt pocket. Desperately trying to quit so he could stay on the football team, Brady couldn't be seen with the other smokers across the road from the school, so he had resorted to sniffing his pocket throughout the day. If he couldn't cop a smoke from a friend after last class and find a secluded place to light up, he was so jittery at practice he could hardly stand still.
Brady grabbed his books and slung his black leather jacket over his shoulder as he left the trailer, finding the asphalt already steaming in the sun. Others from the trailer park waiting for the bus made him feel as if he were seeing his own reflection. Guys and girls dressed virtually the same, black from head to toe except for white shirts and blouses. Guys had their hair slicked back, sideburns grown retro, high-collared shirts tucked into skintight pants over pointy-toed shoes. Oversize wallets, most likely as empty as Brady's, protruded from back pockets and were attached to belt loops by imitation silver or gold chains.
So they were decades behind the times, even for rebels. Brady—an obsessive movie watcher—was a James Dean fan and dressed how he wanted, and the rest copied him. One snob called them rebels without a clue.

Brady scowled and narrowed his eyes, nodding a greeting.
The fat girl with the bad face, whom Brady had unceremoniously dumped more than a year ago after he had gotten to know her better than he should have in the backseat of a friend's car, sneered as she cradled her gigantic purse to her chest. "Still trying to play jock?"
Brady looked away. "Leave it alone, Agatha."
Have something to say about this article? Leave your comment via Facebook below!
advertise with us
Example: "Gen 1:1" "John 3" "Moses" "trust"
Advanced Search
Listen to Your Favorite Pastors