Riven
Jerry B. Jenkins, Author
Tuesday, July 22, 2008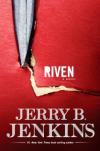 "More like a preppy," one of the guys said, reaching to flick Brady's schoolbooks.
"You definitely don't want to start with me," Brady said, glaring and calling him the foulest name he could think of. The kid quickly backed off.
Brady knew he looked strange carrying schoolbooks. But the coach kept track.
The trailer park was the last stop on the route, and the yellow barge soon drifted in, crammed with suburbia's finest: jocks, preppies, and nerds—every last one younger than Brady. No other self-respecting kid with a driver's license rode the bus.
In a life of endless days of open-fly humiliation, this boarding ritual was the most painful. Brady took it upon himself to lead the group. They could hide behind him and each other, avoiding the squints and stares and held noses as they slowly made their way down the aisle looking, usually in vain, for someone to slide over far enough to allow one cheek on the seat for the ride to school.
"Phew!"
". . . brewery . . ."
". . . smokehouse . . ."
". . . B.O. . . ."
Brady neither looked nor waited. His daily goal was to find the most resolute rich kid and make him move. Today he stared down at the short-cropped blond hair of a boy who had been trying to hide a smile while pretending to study. Brady pressed his knee against him and growled, "Move in, frosh."
"I'm a sophomore," the kid huffed as he made room.
On the way home, Brady would ride the activities bus. There he would for sure be the only one of his type, but football earned him his place among the jocks, cheerleaders, thespians, and assorted club members. Wide-eyed at first, they seemed to have grudgingly accepted him, though they still clearly saw the trailer park as a novelty. One evening as he trudged from the bus, Brady had been sure everyone was watching. He turned quickly, only to be proven right, and felt face-slapped. At least the trailer park was the first stop at the end of the day.
11 a.m.
First Community Church
Vidalia, Georgia
Reverend Thomas Carey knew he would not be getting the job when the head of the pastoral search committee—a youngish man with thick, dark hair—dismissed the others and asked Grace Carey if she wouldn't mind waiting for her husband in the car.
"Oh, not at all," she said, but Thomas interrupted.
"Anything you say to me, you can say to her."
The man put a hand on Thomas's shoulder and spoke softly. "Of course, you're free to share anything you wish with your spouse, Reverend, but why don't you decide after you hear me out?"

Grace assured Thomas it was all right and retreated from the sanctuary.
"You tell her everything?" the man said.
"Of course. She's my—"
"She knows we saw you at your request, not ours, and that we didn't feel you warranted a visit to hear you preach?"
Thomas Carey pressed his lips together. Then, "I appreciate your meeting with us today."
The committee chairman pointed to a pew and leaned against another as Thomas sat. "I need to do you a favor and be frank with you, Reverend. I can tell you right now this is not going to go your way. In fact, we're not going to bother with a vote."
"That doesn't sound fair."
"Please," Dark Hair said. "I know these people, and if I may be blunt, you rank last on the list of six we've already interviewed."
"Shouldn't you poll the others on their—?"
"I'm sorry, but you have a three-year Bible college diploma, no real degree, no seminary training. You're, what, in your midforties?"
"I'm forty-six, yes."
"Sir, I've got to tell you, I'm not surprised that your résumé consists of eight churches in twenty-two years—the largest fewer than 150 members. Have you ever asked yourself why?"
Have something to say about this article? Leave your comment via Facebook below!
advertise with us
Example: "Gen 1:1" "John 3" "Moses" "trust"
Advanced Search
Listen to Your Favorite Pastors