Riven
Jerry B. Jenkins, Author
Tuesday, July 22, 2008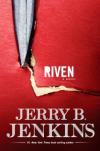 "Why what?"
"Why you've never been successful, never advanced, never landed a church like ours . . ."
"Surely you don't equate success with numbers."
"Reverend Carey, I'm just trying to help. You and your sweet wife come in here, I assume trying to put your best foot forward, yet you look and dress ten years older than you are, and your hair is styled like a 1940s matinee idol."
Dark Hair extended his hand. "I want to sincerely thank you for your time today. Please pass along my best wishes to your wife. And be assured I meant no disrespect. If it's of any help, I'm aware of several small churches looking for pastors."
Thomas stood slowly and buttoned his sport jacket. "I appreciate your frankness; I really do. Any idea how I might qualify for a bigger work? I don't want to leave the ministry, but our only child is in her second year of law school at Emory, and—"
"When there are many Christian colleges that would give a minister huge discounts?"
"I'm afraid she would be neither interested in nor qualified for a Christian school just now."
"I see. Well, I'm sorry. But the fact is, you are what you are. None of your references called you a gifted preacher, despite assuring us you're a wonderful man of God. If you cannot abide your current station, perhaps the secular marketplace is an option."
5 p.m.
Head Football Coach's Office
Forest View High School
Brady hadn't even thoroughly dried after his shower. Now he sat in Coach Roberts's cramped space with his stuff on his lap, waiting for the beefy man. Every player was listed on a poster on the wall, his place on the depth chart and his grade in every class there for all to see. Brady knew what was coming. He should have just skulked out to the bus and, by ignoring the coach's summons, announced his quitting before being cut. But he knew the drill. Never give up. Never say die. Keep your head up. Look eager, willing.
Finally Roberts barreled in, dropping heavily into a squeaky chair. "I gotta ask you, Darby: what're you doing here?"
"You asked me to come see you—"
"I mean what're you doing trying to play football? You're a shop kid, ain't ya? You didn't come out as a frosh or a soph. I smell smoke all over you."
"I quit, Coach! I know the rules."
"We're barely a month into the year, and you're makin' Ds in every class. You're fourth-string quarterback, and entertaining as it is for everybody else to watch you racing all over the practice field on every play, we both know you're never gonna see game time. Now, really, what're you doing?"
"Just trying to learn, to make it."
Brady couldn't tell him he was looking for something, anything, to get him out of the trailer park and closer to the kids he had despised for so long. They seemed to have everything handed to them: clothes, cars, girls, college, futures. No, he wasn't ready to dress differently; he took enough heat from his friends just for carrying books and playing football.
"Listen, your teachers, even the ones outside of industrial arts, tell me you're not stupid. You're a good reader, sometimes have something to say. But you don't test well, rarely do your homework. What's the deal?"

Brady shrugged. "It's just my ma and my brother and me."
"Hey, we've all got problems, Darby."
Do we? Really? "Like I said, I quit smoking, and I'm trying to get my grades up."
"Look, I want to see you succeed, but frankly you're a distraction here. I rarely cut anybody willing to practice and ride the bench—"
Have something to say about this article? Leave your comment via Facebook below!
advertise with us
Example: "Gen 1:1" "John 3" "Moses" "trust"
Advanced Search
Listen to Your Favorite Pastors