Running in Circles
Kim V. Engelmann, Author
Tuesday, June 19, 2007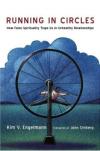 I know the hamster wheel. To seek God when you are in hell and not be able to find him is the most despairing journey of the human heart. Many people in this situation use spiritual language to cover their cyclical wounds, desperately trying to hold on to some sense of meaning and purpose. I do not look down on their efforts to find God in the midst of crisis and difficulty. Even after leaving home and breathing a big sigh of relief, I continued to relive the chaos I had grown up with. It was all I knew.
But now I know there is a difference between suffering that is cyclical and destructive and suffering that is redemptive. I realize that distinguishing between types of suffering can lead us to a potential Pandora's box of questions about evil and suffering in the world. To answer these questions is not the intent of this book. Nor do I assume that these distinctions are prescriptive—set in stone. The distinctions I will be making are intended as general guidelines that can be applied practically so that people of God can be freed to recognize their purpose and not be shackled by endless patterns of futility and fear.
Throughout history the Enemy has used cyclical oppression to keep God's people enslaved, to keep them from recognizing the glorious purpose and hope to which they have been called.
White slave owners in the Old South knew that once the African American slaves became educated, able to think and articulate their experiences, they would seek a higher form of life and recognize freedom as their inalienable right. So they passed laws forbidding anyone to teach slaves to read.
In the same way, if we stay blinded, uninformed and unable to understand or articulate what is happening to us, we cannot examine how our lives fall short of the glorious liberty we are entitled to as God's children. If we mistake the hamster wheel for God's will, we make God an oppressor rather than a liberator, a justifier, an outrageous forgiver and the Author of life. To live in freedom we must think intelligently about our lives and stay open to the possibility that things may not be as predetermined as we thought.
In the Gospels, Jesus does not succumb to every kind of suffering that comes his way. His identity as God's beloved Son and his sense of purpose and calling cause him to avoid certain situations. God reminds him before he goes into the wilderness to be tempted by the devil that Jesus is his beloved Son (Matthew 3:17). This reminder of his identity as the beloved one is to encourage Jesus and build him up before a period of desolation. We too need to be reminded of who we are in the eyes of God. Paul tells us that we are chosen by God (Colossians 3:12), his "beloved children" (Ephesians 5:1).
In the wilderness, Jesus knows who he is. There is no doubt in his mind—and he states it. The Enemy tries over and over to challenge this identity. "If you are the Son of God, let's see you prove it!" He distorts Scripture, and if Jesus were to follow what Satan wanted, he would come under the bondage and oppression of evil. But he doesn't. Time after time he answers Satan's distortions with statements of victory and purpose. When he emerges from the wilderness, his identity leads him to begin his ministry the right way. From the outset he tells people who he is and why he has come. He reads from Isaiah:
The Spirit of the Lord is upon me,
because he has anointed me
to bring good news to the poor.
He has sent me to proclaim release to the captives
and recovery of sight to the blind,
to let the oppressed go free,
to proclaim the year of the Lord's favor. (Luke 4:18-19)
This is who Jesus is—the liberator of captives and the champion of the oppressed. He states to the people that this is his mission and call. And at first they think he's great. But when he refers to incidents in Scripture in which God intervened on behalf of non-Jews (Luke 4:24-27), implying that God has sent him to the Gentiles, they bring him to a cliff and prepare to hurl him over. How quickly they change! What does Jesus do? Stand there and let himself be destroyed? Does he say, "It must be God's will that I suffer for what I said. Go ahead, guys. I'll die a martyr right now by letting you toss me over this ledge!"
Have something to say about this article? Leave your comment via Facebook below!
advertise with us
Example: "Gen 1:1" "John 3" "Moses" "trust"
Advanced Search
Listen to Your Favorite Pastors