Running in Circles
Kim V. Engelmann, Author
Tuesday, June 19, 2007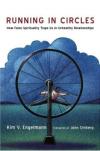 No. Scripture tell us, "He passed through the midst of them and went on his way" (Luke 4:30). On his way to where? To fulfill the purpose for which he came. Immediately he starts healing people, setting them free. The people love him so much they try to keep him from leaving them (Luke 4:42), but Jesus is clear about his call. He responds, "I must proclaim the good news of the kingdom of God to the other cities also; for I was sent for this purpose" (Luke 4:43).
Would you be able to succinctly sum up your call and your reason for being sent to earth at this time? Are you able to spot scriptural distortions that perpetuate oppression rather than liberation? Are you able to act courageously and confidently in the truth that you have been beloved of God since the foundation of the world and are "of more value than many sparrows" (Matthew 10:31)? I know many Christians who don't feel worth one sparrow.
This book is about discovering your tremendous worth in Jesus Christ. It is meant to help you break out of the bondage that can steal your life and rob you of the purpose and call of God. In the following chapters I talk a lot about stopping the cyclical past in order to recognize God's liberation. The first crucial question to ask on this journey is, "Am I suffering because I am fulfilling my God-ordained call and purpose—or because I'm on a hamster wheel?" To help in the discernment process, I try to give practical suggestions and examples, not a list of self-help solutions. This book is an effort to help you get in step with the Holy Spirit, the only true Helper, and discern his direction for your life. I encourage you to read prayerfully and seek the Holy Spirit's transformation. Recognizing patterns, remembering who Jesus is and discovering the dreams God put deep inside you can open new channels for grace and change.
What I share with you on these pages is what I have lived. I am here now because of Jesus' love. Writing this book has made it necessary for me to turn myself inside out, exposing all my ragged edges and uneven seams. I have had to honestly examine the path my life has taken, including the many times my flaws and shortcomings got in the Lord's way. It has been necessary for me to assess what is holding me together these days and causing me to look forward to living rather than dying. So I share with you my insights, reflections and stories in hope that they might shed some light on who God is and who we as God's people are called to be in Christ Jesus.
I start by describing the characteristics of hamster-wheel suffering, which we must recognize if we are going to be freed or help free those we love. The courage to change means we must dare to believe that although the hamster wheel is circling, there is a way out, a choice we can make that will launch us into a new way of living, loving and allowing ourselves to be loved.

Taken from Running in Circles: How False Spirituality Traps Us in Unhealthy Relationships by Kim V. Engelmann. © 2007 by Kim V. Engelmann. Used by permission of InterVarsity Press, P.O. Box 1400, Downers Grove, IL 60515-1426. For more information, please visit www.ivpress.com.
Have something to say about this article? Leave your comment via Facebook below!
advertise with us
Example: "Gen 1:1" "John 3" "Moses" "trust"
Advanced Search
Listen to Your Favorite Pastors