Secrets of a Mid-Life Mom
Jane Jarrell, Author
Friday, May 07, 2004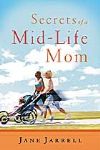 Now we faced the last summer before kindergarten.  This had to be the Best Summer Ever.  That's when panic hit.  Exactly how would I have time to write, speak, style photos, and tend to our household – all while providing the Best Summer Ever?  After all, I was a part-time working mom who actually needed to sleep once in a while.
So, I began to plan:  Art camp for this week, Vacation Bible School the next week, another VBS two weeks later, the community pool.  Of course, I also must teach her values, pray regularly with her, visit the library once a week, and, oh yes, make homemade popsicles.
Just listing the summer to-dos flat wore me out.  After swallowing an aspirin, I reminded myself that this growing girl needs a mom full of peace, a mom who cares and encourages – not one about to collapse under the pressure of providing "the best."
Any of this sound familiar?  Do you struggle with expectations that rob you of peace?
The Danger of Expectations
I found out the hard way that expectations can be real peace-destroyers.  Part of my summer goals was that Sarah would learn to swim.  As the season approached I connected to my mommy network.  A mom told me about a swimming teacher that had taught swimming for twenty-some-odd years.  Not only that, she was a child psychologist.  Perfect, I thought.  I spoke with Miss Kathy and explained Sarah's fears.  For Sarah, getting her face wet was huge.  The thought of going under water evoked a Titanic-sized terror.  Miss Kathy assured me she had seen this before.  All would be fine and she would teach Sarah to swim.
We gathered state-of-the-art goggles, a swimsuit cover-up, and fashionable flip-flops, and arrived at Miss Kathy's backyard pool.  Parents had instructions to stay in chairs on the porch, a distance away.  When it was Sarah's turn to get in the water, she froze and then explained, in a most logical manner, that she simply did not get her face wet.
The next day would prove better, surely.  Again, we arrived with gear in hand.  I reported to the chairs behind the line, and Sarah joined the children at poolside.  I had to assume my semi-stern, it-will-be-okay expression, all the time singing to myself, peace like a river, and peace like a river.  All the kids lined up.  Then it was Sarah's turn.  She politely looked at Miss Kathy and once again explained that she was not getting in.  Miss Kathy insisted.  This went on for several minutes and suddenly Sarah burst into tears and ran to me.
All the way home Sarah explained that she will never go back, and why in the world had I thought to sign her up for lessons?  I felt the same way.  What were my expectations all about?  I realized they had nothing to do with Sarah – they were all about me.  And based on what I knew about Sarah, they were completely unrealistic.  She will learn, I told myself; we will just keep trying until she does.  In fact, I do not even remember how old I was when I first learned to swim.  It wasn't until I examined my expectations and let them go that I experienced peace.
Our Complicated Lives
Another thing that robs us of our peace is the lack of simplicity in our lives.  This is not a new phenomenon.  Look at what Anne Morrow Lindbergh wrote back in the 1950s:
I mean to live a simple life … but I do not.  I find that frame of life does not foster simplicity. …  The life I have chosen as wife and mother entrains a whole caravan of complications.  It involves a house in the suburbs and either household drudgery or household help.  It involves food and shelter, meals, planning, marketing, bills and making the ends meet in a thousand ways.  It involves the butcher, the baker, the candlestick maker but countless other experts to keep my modern house with its modern "simplifications" functioning properly.  It involves health, doctors, dentist, appointments, medicine, vitamins, trips to the drugstore.  It involves education, spiritual, intellectual, physical, schools, school conferences, car-pools, extra trips for basketball or orchestra practice; tutoring; camps.
Have something to say about this article? Leave your comment via Facebook below!
advertise with us
Example: "Gen 1:1" "John 3" "Moses" "trust"
Advanced Search
Listen to Your Favorite Pastors