Seeds of Summer
Deborah Vogts, Author
Monday, June 14, 2010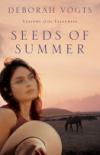 EDITOR'S NOTE: The following is an excerpt from Seeds of Summer by Deborah Vogts (Zondervan).

Chapter One
Metal scraped against metal, waking her from a restless sleep. Again, the screech from outside. With a reluctant groan, Natalie Adams forced herself from her cotton sheets and fumbled in the dark to find her boots.
What was out there? And why wasn't Jessie barking?
She slipped her bare feet into the leather ropers, then hurried from the bedroom down the stairs, hoping she wouldn't rouse her younger siblings. An instant foreboding caused her to grab her dad's shotgun. She loaded it with a couple of shells before heading to the back porch—just in case. As her eyes adjusted to the outside darkness, she distinguished the faint outline of a truck backed up to the barn entrance. She inched her way through the barnyard.
"Who's there?" Her voice wavered as she clutched the wooden forearm of the aged Winchester, prepared to fire a warning shot at the moon if necessary.
A small beam of light darted inside the old limestone barn, then disappeared.
"Tom, is that you?" Natalie stood still while her finger eased closer to the trigger.
Silence. Then the hollow clamor of feed buckets knocked to the ground as though someone had tripped over them.
Natalie held her breath. Her heart thumped wildly against her chest as she thought about the recent thefts in the county. If only her dad were here.
But he's not, and you're in charge. Slow mechanical breaths helped her to see this might be nothing more than their hired hand returning from a night at the bar. She knew little about Tom Walker, but the idea that he'd been out with friends on a Friday night was more probable than not.

A tall figure edged from the shadows. Natalie recognized the pale shock of curls highlighted by the luminous night.
"Don't shoot." The ranch employee rested his hands on his head. "I was just putting some stuff away in the barn."
"Working kind of late, aren't you?"
"Just got back from a rodeo." Tom's voice grew louder as he approached. "Sorry if I frightened you."

Natalie lowered the shotgun, then gazed up at the sky, relief lodged in her throat. "You could've turned on the barn lights. At least then I wouldn't have thought someone was sneaking around out here."
"Didn't want to wake the house."
In the faint moonlight, she caught the glint of an uneasy smile on the man's face. "How'd you do?"
"Tough night for steer wrestling."
Natalie knew all about rodeo and tough nights. "There'll be others."
He dropped his arms, and she noticed Jessie at his side. No wonder the faithful border collie hadn't barked. Suddenly aware of how she must look, she combed her fingers through the wayward locks of her wavy hair. Dressed in baggy shorts, a torn t-shirt, and a pair of pink boots, she held little resemblance to her former title as Miss Rodeo Kansas, or of a rancher either.
And that's what she was now—a twenty-two-year-old ranch owner in the Flint Hills of Charris County. She shook her head, confounded by the turn of events her life had taken this past week. "Sorry to interrupt your work. I'll leave you to your business." Hoping he wouldn't sense her despair, she turned back to the house. As she did, an engine revved in the near distance. Tracing the noise, she saw a truck tear from behind the barn, its headlights aimed for the lane.
Staggering backward, she almost dropped her father's shotgun but somehow managed to bring the wooden stock to her shoulder. "Hey, you there," she called out. "Stop or I'll shoot."
The truck vaulted onto the dirt road and spun gravel as it sped away. Speechless, Natalie whirled toward the hired hand, expecting him to go after the culprits sneaking around her father's barn. Then she acknowledged the fear in the man's eyes.
Have something to say about this article? Leave your comment via Facebook below!
advertise with us
Example: "Gen 1:1" "John 3" "Moses" "trust"
Advanced Search