Set Aside Busy-ness of Life to Read "Too Busy to Live"
Rev. Austin Miles, AgapePress
Monday, August 01, 2005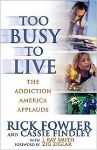 It shows how the "politically correct" idea was formulated and why. What an eye-opener!  It also shows how referring to someone as a "super-mom" or a "winner" contributes to the overall idea that we can do more.
This is not a book of pat answers to the problem. On the contrary, it offers both genuine solutions to what has become an addiction as well as its own 12-step program.  It shows how to break free of busy-ness, get more done in less time while freeing valuable time for family, and – of special importance – how to find quiet time with God.
"Too Busy" includes charts that allow you to assess your life and activities. One of those allows you to reconsider your job. Is it really where you should be working?
The section on time management (essential to grasp) includes a self-analysis, which will determine how you need to change your time consuming habits. And there is also a "Time Contract" that you read and sign with yourself.  In addition, scripture references are given throughout the book to encourage readers to restructure their lives to align with biblical values so that true success can be obtained.
This is the most complete treatise on this subject that has ever been published. It is a well-written and pleasurable read, with a foreword by noted public speaker Zig Ziglar.  The authors did a superb job putting it together.
The three authors are well qualified to write this book. Dr. Rick Fowler, executive director of Prestonwood Counseling Center in Dallas, has been featured at numerous seminars, media and platform events including Focus on the Family with Dr. James Dobson, Insight for Living with Dr. Charles Swindoll, and the 700 Club with Pat Robertson.
Cassie Findley is a credentialed nutritionist and fitness expert who was assistant dean for student life and director of health education and wellness at Baylor University. (For example, stress – a major risk factor in the "too busy" culture – must be managed with exercise and nutrition. She shows you how to do it.) One chapter is titled, "Your Body: Is It a Fit Place to Live?"
J. Ray Smith, is national facilitator for the Too Busy to Live conferences. He also has over 16 years experience as a pastor, and was an instructor and chairman of the Pastoral Studies Department at Dallas Bible College.
This very timely book builds to a strong finale with the chapter, "The Way Back to Balance." That is what all of us need to learn in this orchestrated hustle-and-bustle world. We can get out of the whirlwind and begin to live ... and accomplish more.
Pastors will especially benefit from this book. It offers not only solid counsel, but covers leadership, rich church history (Why the persecution of Christians by Rome when they had so many religions and gods there?), and apologetics.  Plus, many great sermon illustrations can be mined from it. It is a one-book encyclopedia.
This is not just for pastors, but for all Christians. Non-believers as well will profit by reading it.  It contains so much valuable information that it cannot be covered adequately in one review, and should be read twice to fully absorb everything in the book.

© 2005 AgapePress.  All rights reserved.  Used with permission.
Have something to say about this article? Leave your comment via Facebook below!
advertise with us
Example: "Gen 1:1" "John 3" "Moses" "trust"
Advanced Search
Listen to Your Favorite Pastors