Smart Girls Think Twice
Jan Silvious, Author
Tuesday, March 11, 2008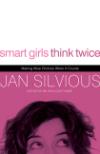 EDITOR'S NOTE: The following is an excerpt from Smart Girls Think Twice by Jan Silvious (Thomas Nelson Publishers).
Making Choices with Confidence

Smart Girls Think Twice About Consequences
My mother and daddy met in a class at business college. He had a limited education but thick, dark hair and loads of wit and charm. She was a blonde-haired, blue-eyed beauty who doggedly put herself through college despite suffering the loss of her mother at the age of eighteen. Both were trying to better their chances for employment by taking the business course, but the biggest bonus to come out of that class was their meeting one another.
Each day they shared a package of crackers and a Coca-Cola for lunch. This bonded them together on a life journey that would last more than fifty-five years. Daddy often told me that when Mother walked into the classroom, he said to himself, "I'm going to marry that woman"—and marry her he did. I, their only child, was born five years later. The effects of the choices they made way back then continue to this very day.
That's the way of choices: they always have consequences, many of which last longer than we initially could imagine. The word consequences sounds as if it always involves punishment, but it doesn't. Consequences are simply the inevitable results of a choice, whether positive or negative. Every choice we make will bring consequences of some kind.
I learned about this relationship between choice and consequence at an early age by watching as my parents made big choices with great hopes and often huge consequences. In their early years, they lived hand to mouth. Mother stayed home to care for me and to make a home out of our tiny house. Daddy worked at a filling station owned by Mr. B. O. Jennings. (I love that name.) He pumped gas, washed car windows, changed oil and tires, and kept track of the money, a small percentage of which comprised his salary. It soon became clear that the money my dad brought in just wasn't enough for our family. My parents loved each other, and they loved me, but they did not love the financial future they saw stretching before them. So they thought about making a life change, and then they thought again. They came to the conclusion that moving where there were good jobs was the best choice for them. Daddy quit his job in Birmingham, Alabama, and got on a bus headed north.
He arrived in Washington DC on a cold January day. For more than two weeks he walked the streets answering ads and looking anywhere he could for work, but no job offers were made. Though lonely and discouraged, he had no intention of giving up. He had thought once, he had thought twice, and the choice had been made. His settled conviction gave him a certain confidence. So he called and asked my mother to catch the bus to Washington and come be with him. She did just that, and with my little two-year-old self in tow, she arrived at the Greyhound bus station after an all-night ride to find Daddy waiting with open arms to take us to the rented room where we would make our new home together.
He had found a one-room flat with a double bed and two overstuffed chairs that could be pushed together to make a wonderful crib. There was no refrigerator, but a handsome windowsill would keep my milk cold. There was no stove, but we had a hot plate to warm soup and a great little mom-and-pop restaurant waited just around the corner. What more could we need? Oh yes, there was a bathroom—down the hall!
My parents had considered their situation and made a life-changing choice, and we lived with the consequences of that choice from then on.
As a consequence of my parents' choice, not only did we live for a time in a one-room flat but I got to grow up near the nation's capital, surrounded by museums, art galleries, libraries, streetcars, and buses. I could go and see just about anything my curious mind wanted to take in.
Have something to say about this article? Leave your comment via Facebook below!
advertise with us
Example: "Gen 1:1" "John 3" "Moses" "trust"
Advanced Search
Listen to Your Favorite Pastors