Smart Girls Think Twice
Jan Silvious, Author
Tuesday, March 11, 2008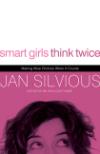 And her story provides a lesson for all of us who face tough choices about our children. I call it "Moses's Mama's Principle" and it goes like this: do what you can and leave the rest to God.
This principle came into play for Kristen, a single mother of three young boys and one teenager bent on testing every limit he could. She knew that she could not allow the behavior of her older son, Marcus, to continue influencing his young brothers, and she also knew that her ex-husband was willing to have their son live with him. She worried that sending Marcus away would damage their relationship even further, but the current situation clearly wasn't working. Then one weekend he broke the house rules yet again and the whole scene exploded. He came in at 2:00 a.m., disrespected his mother with back talk, then picked on his brothers unmercifully when he finally got out of bed the next day. Kristen thought twice about the choice she had to make with no guarantees of a positive outcome. Then with fear and trembling, she told Marcus he had to leave. Of course, his departure was marked by all the drama he could create. After vowing never to come back in the house and never to speak to her again, he slammed the door on his way out.
True to his word, over the next two years Marcus remained with drawn and sullen, avoiding all of his mother's attempts to make contact. She sent him notes and tried to see him in the school parking lot. He would have none of it and tried to punish her as much as he could. This child she loved with all of her heart seemed determined to test every ounce of faith and trust that she had placed in God. She clung to the words of Romans 8:28: "And we know that God causes everything to work together for the good of those who love God and are called according to his purpose for them." She knew that when the Bible uses the word everything, it truly means everything, including the rebellious, headstrong behavior of a teenage son. Kristen also knew that the core issue for her was not loving her son and making a hard choice concerning him; rather, her challenge was to love God and believe that He was in control of the future. She had no guarantees that the consequence of her hard decision would be good. She just knew that she had considered the best choice to make, she had called out to God, she had thought twice, and then she had gone ahead.
And her decision was affirmed at last. After finding his own relationship with Christ, Marcus came back home at the age of eighteen with a totally changed attitude.
Of course, not all of our choices will turn out as we hope. That's life. Sometimes, even though we think twice, there simply is no perfect choice; other times the right choice is obvious but just plain difficult. The best we can do is Stop, Look, Listen, and Look Again at the possible consequences of each option—then make the wisest choice we can, leaving the rest in God's capable hands. There is great relief in knowing that God sees and God cares and, ultimately, God is in control.

Reprinted by permission of Thomas Nelson Inc., Nashville, TN., from the book entitled Smart Girls Think Twice copyright 2008 by Jan Silvious. All rights reserved. Copying or using this material without written permission from the publisher is strictly prohibited and in direct violation of copyright law.
Have something to say about this article? Leave your comment via Facebook below!
advertise with us
Example: "Gen 1:1" "John 3" "Moses" "trust"
Advanced Search
Listen to Your Favorite Pastors