So Close I Can Feel God's Breath
Dr. Beverly Rose, Author
Monday, May 22, 2006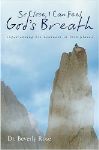 One minute she was here and the next, where?  My mother's body lay whole on the bed, minus my mother.  It was as if she had planned a dinner party, furnishings freshly polished, dinner on the table, then slipped out the back door, leaving a cadre of expectant guests waiting.  A hospitable hostess such as my mother could never abide such a lack of courtesy.  Besides, the fallout from some of our less than gracious relatives would kill any nice Jewish mother – that is, if she weren't already dead.  My mother would have even come back from the dead just to make a socially acceptable exit and save face.
I had to face it.  One minute her eyes were vibrant; the next, vacant.  One moment they were valuable agents of sight; the next, obsolete orbs.  In those eyes, I saw her leave and then return as if she had never left.  Somewhere in between, I caught a fleeting glimpse of the person who was my mother.  She was not the body she was in – and out of – and in again.  She was far more.
I was not much of a believer in the afterlife, having been raised in the Jewish religion, which doesn't take an official stance on such matters.  Some Jews choose to believe in heaven; others don't.  My statement of faith was best expressed by a postcard I had taped to my wall after a particularly enjoyable trip to California many years before.  Underneath a drawing of the Golden Gate Bridge was the caption, "There may not be a heaven, but at least there is a San Francisco."
Even I doubted that in the split second between life and death my mother had gone to "the City by the Bay."  But where did she go? I wondered – and how had she managed to come back?  I knew it was biologically possible to revive a dead person.  But for a dead person to travel somewhere and then return because she had heard me say "I love you"?  I thought my words had fallen on deaf ears.
Mysteriously, I had experienced a body without a person, while my mother claimed to have been a person without a body.  It was as if a flame could exist without a wick.  Didn't something have to enable the flame to burn?  Was it possible that what I had witnessed in her eyes as she returned to life was a divine spark?  I didn't know, but I had come close enough to know that something was there – and only the thinnest veil had kept it from my literal sight.  Years later, I would come to realize that in that miraculous, mystifying moment between life and death, I had ventured into a place unlike any other place.  That's because thin places are not only extraordinary places.  They are also ordinarily found just this side of the other side.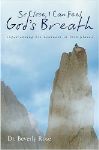 Excerpted from "So Close, I Can Feel God's Breath: Experiencing His Nearness in Thin Places." Copyright 2006 by Dr. Beverly Rose.  Used by permission of SaltRiver Books (an imprint of Tyndale House Publishers).
Dr. Beverly Rose earned a doctorate in clinical psychology and held an academic appointment at Harvard Medical School.  Author of "Mothers Never Die," Dr. Rose has appeared nationally on radio and television.  Raised in the Jewish faith, she is now a faithful follower of Jesus.  Despite the daily trials of living with a neuromuscular disease, Dr. Rose experiences great jog and hope in her walk with the Lord.  Dr. Rose currently resides in Colorado Springs with her beloved toy poodle, Nikki.
Have something to say about this article? Leave your comment via Facebook below!
advertise with us
Example: "Gen 1:1" "John 3" "Moses" "trust"
Advanced Search
Listen to Your Favorite Pastors