Someone to Blame
C.S. Lakin, Author
Wednesday, October 13, 2010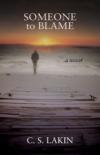 "Are we here? Is this it?"
Matt nodded.
Irene looked at the small shopping center across the street and lowered the window. A strong breeze of salt air rushed in, cool and startling. Seagulls winged on the updraft above her, and she even heard the sea. Across the street a clapboard-sided market, post office, police station, and a few mismatched shops lined a parking lot. Casey leaned forward to peek out the windshield, then retreated to her seat with a disapproving sigh.
They drove the last five miles in silence, passing one rundown motel after another, dark wooden structures backed up against pockets of giant redwood trees. The road sank and tipped at the mercy of eroding cliffs, cliffs slowly dissolving at the insouciance of an unforgiving sea, while below them a turbulent metal-gray ocean slammed against the rocky shoreline, spray erupting high into the air.
Irene felt a kinship with the restless shifting of elements.

The rental house sat at the end of a dirt lane, close to the state park. Irene got out and eyed the small weathered cottage with its rotting plank siding and peeling brown paint. She had little doubt that, in no time, Matt would have it spruced up, with plumbing and lights working to his satisfaction. Matt would never have picked a house in perfect condition. She knew he needed something to fix . . . since there was so much he couldn't fix in his own life.
Casey got out of the truck and stopped beside her mother, evaluating her new home. "You gotta be kidding," she mumbled, then trudged through the front door.
Matt busied himself detaching the trailer and setting chocks behind the tires. Irene closed her eyes and let the crisp wind whip her hair. Off in the distance waves pounded the shore, a low thrumming, like an advancing army.
She hesitated at the sagging threshold of the front door.
Maybe this would be a good move. She would start teaching at Breakers Elementary. Casey would begin eighth grade with a whole new set of classmates — students who wouldn't stare at her with pity or back away, afraid her bad luck was contagious. Matt would pour his frustrated energy into repairing the cottage. They could begin a new life, one unmarred by pain and disaster. Allow some semblance of normalcy to seep back into their lives.
At least that was what Irene had hoped for, had prayed for.
She turned, about to say something to Jesse.
Her dead son.
At the edge of a crumbling cliff, Irene felt her feet give way.
As the ground rushed up to meet her, she clutched the word in her fist.
Freefalling.
Copyright © 2010 by Susanne Lakin
This title is also available as a Zondervan ebook. Visit www.zondervan.com/ebooks.
This title is also available in a Zondervan audio edition. Visit www.zondervan.fm.
Requests for information should be addressed to
Zondervan, Grand Rapids, Michigan 49530

C. S. Lakin currently works as a freelance copyeditor and writing mentor, specializing in helping authors prepare their books for publication. The first book in her Gates of Heaven fantasy series with AMG, The Wolf of Tebron, released August 2010, with numerous books to follow. She is currently completing her tenth novel and developing a dog memoir of epic proportion. Lakin welcomes your comments at www.SomeoneToBlame.com. For more information, please visit www.cslakin.com.
Have something to say about this article? Leave your comment via Facebook below!
advertise with us
Example: "Gen 1:1" "John 3" "Moses" "trust"
Advanced Search
Listen to Your Favorite Pastors