Spectacular Sins
John Piper, Author
Friday, September 19, 2008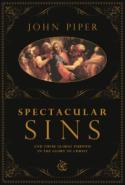 And not only life, but the world too is shrinking. People who don't like Christians are all around us. Only a strange providence keeps our churches from being bombed. It is only a matter of time till the reality of the rest of the world comes home. And all the while we are called by Christ to go to them, love them, sacrifice for them, bring the gospel to them. The Great Commission is not child's play. It is costly. Very costly.
The coddled Western world will sooner or later give way to great affliction. And when it does, whose vision of God will hold? Where are Christians being prepared for great global sorrows? Where is the Christian mind and soul being prepared for the horrors to come? Christians in the West are weakened by wimpy worldviews. And wimpy worldviews make wimpy Christians. God is weightless in our lives. He is not terrifyingly magnificent. His sovereignty is secondary (at best) to his sensitivity.
The Missing Bible
What is missing is the Bible. I mean the whole Bible, with its blood and guts and sins and horrors—and all of it under the massive hand of God. The hand whose fingers flick stars into being. The hand that gives life and takes it. The hand that rules everything. Everything. What we need is to know the great things about God. Knowing great things about God will help make us ready not to collapse under cataclysmic conflict and personal catastrophe.
The Bruised Heart and the Tire Iron
I am aware that these things seem emotionally distant and unrelated to the personal pains of many. In our quiet daily miseries of marriage or parenting or loneliness or sickness or depression, we may feel that all this talk about the grandeur of God is like trying to heal a bruised heart with a tire iron. I know that God is tender, and that personal fellowship with him is sweet, and that touching the heart happens through the brokenness of the still, small voice. I know this, and I love it. Jesus Christ is a precious friend to me.
But I also know something else. If, while I am having a tender conversation with my wife, a man breaks in and kills her and all my children and leaves me wounded on the living room floor, I will need a way of seeing the world that involves more than the tenderness of God. If pestilence takes out tens of thousands of my fellow citizens and half my church, my mental and spiritual survival will depend on more than the precious gifts of God's intimacy.
Catastrophes Are Coming
I am writing this book to build a vision of God into our lives that will not let us down in the worst of times. I mean really bad times. Horrific times. Who is prepared to meet the Agony that is coming?
Our worship services and our preaching too often pamper us. They coddle. I am not opposed to friends helping us with the daily frustrations that make us unhappy. There is plenty of proverbial wisdom in the Bible to warrant this. It is good. Love does this. I need this help. I want it. There is a time for everything under heaven, even pampering. But surely the preaching of God's word must aim for more than this.
Global cataclysms and personal catastrophes are coming. I say this not as one with my finger in the wind, but with my finger in the Bible. "Through many tribulations we must enter the kingdom of God" (Acts 14:22). "If they persecuted me, they will also persecute you" (John 15:20). "You yourselves know that we are destined for [these afflictions]" (1 Thess. 3:3). "All who desire to live a godly life in Christ Jesus will be persecuted" (2 Tim. 3:12). We are "fellow heirs with Christ, provided we suffer with him" (Rom. 8:17). "Not only the creation, but we ourselves, who have the firstfruits of the Spirit, groan inwardly as we wait eagerly for adoption as sons, the redemption of our bodies" (Rom. 8:23).
"Your Brother and Partner in the Tribulation"
Have something to say about this article? Leave your comment via Facebook below!
advertise with us
Example: "Gen 1:1" "John 3" "Moses" "trust"
Advanced Search
Listen to Your Favorite Pastors