Spectacular Sins
John Piper, Author
Friday, September 19, 2008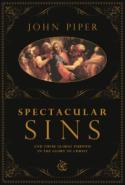 I have shepherded too many Christians through death in the best of times to think that any times are easy. But hard times are coming. Times are coming that have already been. Times when we will speak again the way John spoke on the island of Patmos. We will write to one another and, with no sense of melodrama, sign our letters, "Your brother and partner in the tribulation and the kingdom and the patient endurance that are in Jesus" (Rev. 1:9). Few write like this now in the West. But we will.
Times are coming when shepherds will say again to their flock, as they have done in days gone by, "Do not fear what you are about to suffer. Behold, the devil is about to throw some of you into prison, that you may be tested, and for ten days you will have tribulation. Be faithful unto death, and I will give you the crown of life" (Rev. 2:10). I am deeply thankful for Christian counseling to make my marriage better. But in addition, I need a shepherd who will tell me: "The devil may kill you, but that's okay. Jesus will give you the crown of life."
The Beast Will Win … For a Season
Along with the tender words of daily blessings, I need the tough warning that the Beast will win. For a season. "[The Beast] was allowed to make war on the saints and to conquer them . . . and . . . cause those who would not worship the image of the beast to be slain" (Rev. 13:7, 15). I need the warning that the great Babylonian whore will one day be "drunk with the blood of the saints, the blood of the martyrs of Jesus" (Rev. 17:6).
These horrors are in the Bible. God's word. Where is the shepherd who is preparing the saints for this kind of future? What answer could he give to our questions? What answer would fit with the upbeat entertainment mood? Where in the West do we hear the answer: "They have conquered him by the blood of the Lamb and by the word of their testimony, for they loved not their lives even unto death" (Rev. 12:11)?
Our Felt Needs Are About to Change
The fact that people do not feel a need for this kind of food in their spiritual diet should not silence the wise and loving shepherd. Our felt needs are about to change dramatically. Pastors will be glad if they are ahead of the curve. Otherwise, it may be too late. Coddled people will not be good listeners when their world collapses. They will be numb with confusion and rage at the God who wasn't supposed to allow this. "If this is the way God is, why didn't you tell us?"
The aim of this book is not to meet felt needs, but to awaken needs that will soon be felt, and then to save your faith and strengthen your courage when evil prevails. These are big,
deep, weighty, strong truths. Truths for pestilence and war and personal calamity. These truths are made of steel. I know that a tire iron cannot caress a bruised heart, but if your car is rolling over on you and about to crush you, a cold, steel perpendicular tire iron might save your life. Then later, at home, as you tell the story, tears will flow, and Jesus will hold you as you sob for joy.
The "Success" of Sin in the Providence of God
My aim is to show that sin and evil, no matter how spectacular, never nullify the decisive, Christ-exalting purposes of God. No, my aim is more than that. These spectacular sins do not just fail to nullify God's purpose to glorify Christ, they succeed, by God's unfathomable providence, in making his gracious purpose come to pass. This truth is the steel God offers to put in the spine of his people as they face the worst calamities. There will be tenderness in due time. But if the back of our faith is broken because we think God is evil or absent, who will welcome him when he comes with caresses?
The Aim Is Love
In the end, my aim, as I will make clear as we go along, is that you will be given the strength and courage of never-failing love toward all people, including your enemies (Matt. 5:43-44). "Love bears all things, believes all things, hopes all things, endures all things" (1 Cor. 13:7). There will be much to endure. Without a way of seeing the world that can deal with massive evil and unremitting pain under the supremacy of Christ, we will collapse in self-pity or rage. This is the opposite of love. If we are to endure and bear and believe and hope, we need to see the spectacular sins of history the way God sees them.
Have something to say about this article? Leave your comment via Facebook below!
advertise with us
Example: "Gen 1:1" "John 3" "Moses" "trust"
Advanced Search
Listen to Your Favorite Pastors