Stormie Omartian Encourages Women to Pray for Themselves
Whitney Von Lake Hopler, Contributing Writer
Wednesday, October 23, 2002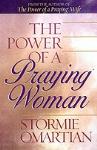 Women pray often, about many things.  So it would seem that a book on prayer for women would be a bit like preaching to the choir.  But when women pray, they're usually praying for others.  In the midst of all their praying, they often neglect to pray for themselves.
Stormie Omartian, author of many best-selling books (The Power of a Praying Wife, The Power of a Praying Husband, The Power of a Praying Parent and The Power of a Praying Nation), has written the latest volume in the series--The Power of a Praying Woman--to encourage women to invest time and energy into praying for their own lives.
"Women are by nature givers," Omartian says.  "We find it easier to pray for everyone else on the planet than we do for ourselves.  We are able to pray for people we've never even met far easier than we can pray for our own lives.…  We are often too emotionally involved in the people around us and the day-to-day existence of our lives to be able to figure out how we should be praying for ourselves beyond the immediate and urgent."
When women pray about their own lives, they're not being selfish, says Omartian.  They're following God's will when they do so--developing vital intimacy with Him that leads to personal transformation.  "You are either becoming more like Christ every day or you're becoming less like Him," she writes in the book.  "There is no neutral position in the Lord.  And that is the very reason I wrote this book.  I want you and me to keep moving forward.…  I want us to move forward by spending quality time with the Lover of our soul every day.  I want us to become passionate about God.  I want us to find out what we are supposed to be doing and then do it."
Balancing Roles and Setting Priorities
A major challenge women must confront when trying to pursue goals--including goals for spiritual growth--is figuring out how to effectively balance the many roles they play (such as wives, mothers, friends, employees and volunteers).  When women are able to set proper priorities for their lives, they're able to place their lives under God's direction rather than allowing their many responsibilities to control them. 
"Because women are nurturers and able to multi-task, we juggle many roles.  We want to do each one of them well, and so we wear ourselves out trying," says Omartian.  "The key to doing what we do successfully is to pray that God will help us put our lives in right order and be able to prioritize.  We can't live successfully without right priorities in our lives, yet some of us try to do that every day.  Right priorities are not something we can figure out on our own.  We have to have a clear knowledge of God's Word and be led by the Holy Spirit in order to understand what those priorities should be."
Rather than trying to find time for prayer in their busy schedules, says Omartian, women should proactively make time for it.  That will often mean making sacrifices, she says, but it's worth it to do so.  "The truth is you make time for whatever is important to you.  Everything else takes a back seat to the most important things in your life.  I try to see where I can carve out time to be with God in prayer and in His Word.  I look for what I can eliminate from my schedule so I can spend time with the Lord.  As a result, I don't spend much time watching TV or reading magazines or going out socially or talking on the phone.  I use that time to read the Word and pray instead.  It's not easy because there are always so many things clamoring for our attention, but we have to do whatever we must in order to see that we have time to be with God."
Have something to say about this article? Leave your comment via Facebook below!
advertise with us
Example: "Gen 1:1" "John 3" "Moses" "trust"
Advanced Search