Tender Grace
Jackina Stark, Author
Thursday, February 26, 2009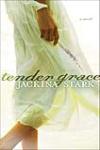 I didn't pick up the phone today—not even when Molly called. I figured she'd leave a message if it were an emergency. I just didn't have the energy to sound fine. I'll call her this evening. I'll ask her what Jada and Hank have been up to and reciprocate with details about the Alaska pipeline, fresh off the History Channel.
She's lost her dad; she must not lose her mother.
July 29
I've been reading my entries. In doing so, I've realized that I have given up something besides reading and listening to music. Not quite as completely, but as significantly. I've given up speaking.
Of course I say what is necessary. And with those closest to me, I try to interact, but I've become adept at asking open-ended questions. Such questions keep others talking, and the questioner comes off as a good conversationalist. When open-ended questions need a rest, Animal Planet (et al.) comes to the rescue. There you have it: Someone who was once borderline gregarious has no desire to speak. None. I haven't even carried on an interior monologue. I've been close to comatose within.
Is that why I opened my laptop the evening of July tenth?
To speak?
July 30
I sat beside Rita in church today and felt like crying when a girl sang a song I hadn't heard in some time, since long before Tom died. The refrain is all I remember, all I heard after the first few lines: "Jesus will still be there." Not that I don't know that. "I am with you always" runs through my mind most days, even as I sigh. But as she sang I saw the image of massive hands extending from strong arms reaching over a cliff and grasping my forearms. I remained suspended in midair throughout the song, but I didn't fall.
I wouldn't have thought myself capable of such an optimistic image.
July 31
An idea came to me in the middle of the night.
Even when I was sane I tended to roll my eyes at ideas conceived under such circumstances, so I'll probably deem this one stupid too when I ponder it in the light of day.
The kids called to check on me. Today would have been our thirty-second anniversary.
A Tennyson line comes to me: "O death in life, the days that are no more."
August 1
Twenty-four hours later, the idea seems feasible. The wildness of this late-night thought trumps the desperation of my days.
I'm leaving here.
---
Tender Grace
Copyright © 2009 by Jackina Stark
ISBN 9780764205750
Published by Bethany House Publishing, a division of Baker Publishing Group
PO Box 6287 Grand Rapids MI 49516-6287
Used by permission. All rights reserved. No part of this publication may be reproduced, stored in a retrieval system or transmitted in any form by any means, electronic, mechanical, photocopy, recording or otherwise, without the prior permission of the publisher, except as provided for by USA copyright law.
Have something to say about this article? Leave your comment via Facebook below!
advertise with us
Example: "Gen 1:1" "John 3" "Moses" "trust"
Advanced Search
Listen to Your Favorite Pastors