The Bridge of Peace
Cindy Woodsmall, Author
Thursday, September 02, 2010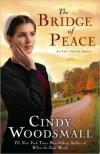 * * *
As Grey left his barn and crossed the driveway, he smelled supper cooking— probably fried chicken by the aroma of it. Pieces of freshly mowed grass that were almost too small to see were scattered throughout the lawn. The porch and walkways were spotless, and the windows sparkled as the sun moved low on the horizon. A familiar, tainted feeling rose within him as he opened the screen door to his home.

His wife stood beside the oven, scouring a nearby countertop. She glanced at the clock and then to him. "Hey." Her eyes moved over his clothing, and he knew the quick study of his outfit was to assess just how dirty he was today. She returned to the task in front of her. "Hi." He set his lunchpail in the sink. "Where's Ivan?"

"At your Mamm's."

He nodded. The light in their five-year-old son's eyes strengthened Grey. After he removed the plastic containers from his lunchpail, he rinsed them. "Been there all day?"

"Just since he got up from his nap. Supper will be ready by the time you're showered." Inside her softly spoken sentence, he'd been dismissed and given respectful instructions to come to the table clean. He needed to bathe and change clothes before the school board meeting anyway, so he went to his bedroom. While working in the cabinetry shop, he'd seen Lena Kauffman drop children off at the Mast house. He'd considered stepping out and speaking to her for a minute to try to get a feel for her side of the complaints the Benders were lodging against her. But if she knew the board was meeting to discuss those criticisms, she'd want to attend. Michael Blank, his father-in-law and the chairman of the school board, had said earlier this week that he intended to discover if the Benders had any real justification for their grumbling before he was willing to share any of the negative talk with Lena. Grey appreciated Michael's reasoning, but he doubted that Lena would. As a kid she'd had a fierce temper when pushed. It'd been many a year since Grey had seen it, so he was confident that hadn't played into Michael's decision.

The memory of Lena's brother provoking her beyond her control probably still stood out in a lot of people's memories. Her temper made her an easy target and caused her brother to declare war, so the harassment of Lennie became a full-time game as she was growing up. One time her brother had brought Grey and a group of friends with him on a romp through the woods. Soon enough they'd taken over an abandoned tree house. They were teens, around sixteen years old, and wanted a private place to get away from their parents, a place to talk freely and smoke a cigarette. But the playhouse was Lennie's, complete with books, papers, and a diary.

She must have heard their voices because she called out to them. When her brother realized she was climbing up the rope ladder, he'd shaken her loose, causing her to fall. Rather than going home, she raged at them while trying to climb the ladder again. Once she'd been dumped again, some of the guys pulled the ladder inside the tree house and dangled her diary and books over the sides. She'd thrown rocks at them, calling out the worst things her ten-year-old mind knew to say—that they all stunk and they looked like old mares. One of the guys began reading from her journal. Lennie's eyes filled with tears as she screamed for him to stop. Feeling sorry for her, Grey had freed her diary from the tormentors. He tossed it to her, but she kept throwing rocks through the oversized window frames until she pinged her brother a good one.

"Rumschpringe teens." Grey sighed. It was amazing the Amish community hadn't imploded from the turmoil they caused.

The dimness of the fading day settled over the quiet space as he entered the bedroom. Beige sheers fluttered gently in the late September breeze. The bedspread was tucked crisp and perfect with the pillows adjusted just so, and not one item sat on the top of his dresser. He moved into the bathroom and turned on the shower. His razors. His toothbrush. His shaving cream. His combs. All lined up perfectly on a rectangularpiece of white linen. Plush, clean towels were stacked neatly on a shelf. He grabbed one, hung it on the peg near the shower stall and peeled out of his clothes. Feeling tempted for a moment to leave his stuff on the floor, he mumbled to himself to grow up. Elsie wouldn't say a word. Conversations didn't pass the threshold of the bedroom. Ever.

As the hot water and soap rinsed the day's grime from his body, he wondered if she ever missed him. The discomfort of the thought drained his energy. For too long he'd searched his mind and heart for answers. At twenty-eight he no longer had much youthful nonsense in him. He tried to think and act like a considerate man, but whatever was wrong lay outside his grasp to understand. Was it his fault? Was it hers? He didn't know, and sometimes he was so weary he didn't care. But giving up would only break them worse.

Sing for me, Grey.

The memory haunted him. How long had it been since she'd wanted him to sing for her? He turned off the shower and grabbed his towel. He knew of only one possible answer for their marriage—an avenue that might bring relief—but he'd have to be willing to publicly embarrass her and himself to pursue it. There had to be another way to find answers.


Copyright © 2010 by Cindy Woodsmall. Used with permission.

The Bridge of Peace
Published by WaterBrook Press
12265 Oracle Boulevard, Suite 200
Colorado Springs, Colorado 80921

All rights reserved. No part of this book may be reproduced or transmitted in any form or by any means, electronic or mechanical, including photocopying and recording, or by any information storage and retrieval system, without permission in writing from the publisher.


Have something to say about this article? Leave your comment via Facebook below!
advertise with us
Example: "Gen 1:1" "John 3" "Moses" "trust"
Advanced Search
Listen to Your Favorite Pastors