The Case for Life
Scott Klusendorf , Author
Saturday, May 09, 2009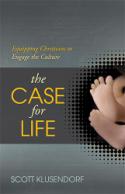 HELPFUL RESOURCES
Randy Alcorn. Why Pro-Life?: Caring for the Unborn and Their Mothers. Colorado Springs: Multnomah, 2004.
Scott Klusendorf. Pro-Life 101: A Step by Step Guide to Making Your Case Persuasively. Signal Hill, CA: Stand to Reason Press, 2002.
Gregory Koukl. Precious Unborn Human Persons. Signal Hill, CA: Stand to Reason Press, 1997. (Call 1-800-2-REASON to order, or visit www.str.org.)
Gregory Koukl and Scott Klusendorf. Making Abortion Unthinkable: The Art of Pro-Life Persuasion. Signal Hill, CA: Stand to Reason Press, 2001.
Peter Kreeft. The Unaborted Socrates: A Dramatic Debate on the Issues Surrounding Abortion. Downers Grove, IL: InterVarsity Press, 1983.
The Case for Life: Equipping Christians to Engage the Culture
Copyright 2009 by Scott Klusendorf
Published by Crossway Books, a publishing ministry of Good News Publishers
1300 Crescent Street Wheaton, Illinois 60187
All rights reserved. No part of this publication may be reproduced, stored in a retrieval system or transmitted in any form by any means, electronic, mechanical, photocopy, recording or otherwise, without the prior permission of the publisher, except as provided for by USA copyright law.
2. Francis J. Beckwith, Politically Correct Death: Answering Arguments for Abortion Rights (Grand Rapids, MI: Baker Books, 1993), 59.
3. Portions of this dialogue, with some modification, first appeared in Gregory Koukl and Scott Klusendorf, "The Vanishing Pro-Life Apologist," Clear Thinking, Spring 1999.
4. See Peter Kreeft, The Unaborted Socrates (Downers Grove, IL: InterVarsity Press, 1983).
5. Gregg Cunningham, the executive director of The Center for Bio-Ethical Reform, has said this in various public presentations; www.abortionno.org.
6. See T. W. Sadler, Langman's Embryology, 5th ed. (Philadelphia: W. B. Saunders, 1993), 3; Keith L. Moore and T. V. N. Persaud, The Developing Human: Clinically Oriented Embryology (Philadelphia: W. B. Saunders Company, 1998), 2–18; Ronan O'Rahilly and Fabiola Müller, Human Embryology and Teratology, 2nd ed. (New York: Wiley-Liss, 1996), 8, 29.
7. Moore and Persaud, The Developing Human, 2.
8. Stephen Schwarz, The Moral Question of Abortion (Chicag Loyola University Press, 1990), 18. The SLED test was initially suggested by Schwarz but is modified and explained here by me.
9. Francis J. Beckwith, Defending Life: A Moral and Legal Case Against Abortion Choice (New York: Cambridge University Press, 2007), xii. In using the term "successful" abortion, Beckwith is not saying unsuccessful abortions are morally permissible.
10. Akinrinola Bankole, Susheela Singh, and Taylor Haas, "Reasons Why Women Have Induced Abortions: Evidence from 27 Countries," International Family Planning Perspectives, Vol. 24, No. 3, September 1998.
11. Warren Hern, Abortion Practice (Boulder, CO: Alpenglo Graphics, 1990), 10, 39. During the 1995 Congressional debate over partial-birth abortion (clinically termed "Intact D&X abortion"), opponents of a proposed ban on the procedure asserted it was rarely performed and was used only in extreme cases when a woman's life was at risk or the fetus suffered from severe anomalies. However, Ron Fitzsimmons, executive director of the National Coalition of Abortion Providers, later admitted that not only was the actual number of partial-birth procedures much higher than he originally stated but that his own contacts with many of the physicians performing these procedures indicated that the vast majority were done on healthy mothers carrying healthy fetuses. Diane Gianelli, "Abortion Rights Leader Urges End to 'Half Truths,'" American Medical News, March 3, 1997.
12. T. E. Goldner, H. W. Lawson, Z. Xia, H. K. Atrash, "Surveillance for Ectopic Pregnancy—United States, 1970–1989," MMWR CDC Surveillance Summaries 42 (6) (December 1993): 73–85.
13. Eric Daiter, MD, "Ectopic Pregnancy: Overview," Obgyn.net, http://www.obgyn.net/women/women.asp?page=/pb/cotm/9902/9902.
14. As a result, some pro-life advocates think we should avoid the term abortion in this case because the intent is radically different from abortions performed for socioeconomic reasons.
15. Thomas Murphy Goodwin, "Medicalizing Abortion Decisions," First Things, March 1996; http://www.firstthings.com/article.php3?id_article=3835.
16. William Rusher, How to Win Arguments More Often than Not (New York: Doubleday, 1981), 44–45.
Have something to say about this article? Leave your comment via Facebook below!
advertise with us
Example: "Gen 1:1" "John 3" "Moses" "trust"
Advanced Search
Listen to Your Favorite Pastors