The Cross & the Pen: A Heart That Dances
Eva Marie Everson, Contributing Writer
Saturday, February 07, 2004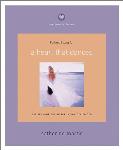 As a writer I am often sent books to review ... look over ... "Tell me what you think ... " sort of thing. Sometimes I'm sent catalogs, which feature the latest books released and, if one catches my attention, I'll request it. Such is the case with Catherine Martin's A Heart That Dances (NavPress). I used this book in my personal study during a most difficult time. I can't begin to tell you how much it ministered to me; how it enabled my broken heart to dance! I contacted Catherine and asked her if we could spend some time talking about it. Wanna listen in?

Eva: Catherine, let me begin by saying one of my favorite scriptures is from Psalm 51 in which David talks about the bones God broke rejoicing. I've often referred to this as dancing on broken bones. I've also asked God for several years to "show me" His heart. Your book combines the desire of my heart so beautifully! How did the idea for the book come to you?

Catherine: Eva, for me, life with the Lord is very much a romance of the heart. I am constantly amazed at His continued initiative in calling me to draw near and know Him. Every idea I have ever had for a book has come from the Lord in my quiet time. As I was reading one day about David, the man after God's own heart, I was particularly moved by his exuberant, joyful dancing as he brought the ark to Jerusalem. It came to me: he had a heart that danced! That's how the Lord gave me the title for this book. Then, I thought it would be exciting to look at different men and women in the Bible who were intimate with God. What can I learn from their lives that will help me grow in my own relationship with the Lord? That was the beginning of A Heart That Dances.

Eva: Let me be honest; this book came in my mailbox during a particularly difficult time in my spiritual life. As I said, I've been asking God to show me His heart ... and He did ... and it broke mine. At the same time, your book arrived and I began to read it and follow along with the study and prayer guide. What revelations! How you chose the scriptures and format for A Heart That Dances.

Catherine: Your experience is an answer to my prayer for the books of quiet times to encourage hearts that are longing to know God more. The format of A Heart That Dances and the other books of quiet times I've written is a unique plan that the Lord gave to me over 10 years ago, P.R.A.Y.E.R.: Prepare Your Heart, Read and Study God's Word, Adore God In Prayer, Yield Yourself To God, Enjoy His Presence, and Rest In His Love. I have used that plan to teach thousands of people all the different disciplines of devotion that can revolutionize their quiet time. I'll never forget the day when the Lord put the idea in my heart to use this plan to write quiet times for others so that they could experience firsthand the excitement and joy of time alone with the Lord. When I write these books, the Lord literally brings quotes, excerpts, and verses to my mind to form these quiet times. It is an exciting, intense journey of study, prayer, and writing.

Eva: I have no doubt, having read the book. Catherine, what is a heart that dances exactly?

Catherine: The one who has a heart that dances is the one who has said yes to the Lord's invitation, "Will you dance with Me?" That person draws near, embraces the Lord, and then follows as the Lord leads in the dance of life. There is such an intimacy and joy when you dance with the Lord.

Eva: It becomes very obvious that your words have not been penned by happenstance (and you've certainly confirmed that), and I know your ministry is called Quiet Time Ministries. What drew you to quiet times with God?

Catherine: The Lord gave me Psalm 27:4 as my life verse over 20 years ago: One thing I have asked from the Lord and that I shall seek; that I may dwell in the house of the Lord all the days of my life; to behold the beauty of the Lord and to meditate in His temple. In that verse, I sensed a great invitation to intimacy with Him and something that would define my life in the years to follow. Early on, I knew that the decisions I made about time with God in His Word would determine where I would be many years later. And that has proven to be true. If I could issue one challenge it would be to set aside the many things in life in favor of the one thing: intimacy with God. That is the challenge and passion set forth by Quiet Time Ministries at retreats and conferences, in the books God has given me to write, the Quiet Time Ministries website at www.quiettime.org and the teaching videos and audios that are produced. It is my heart's desire that others will experience intimacy with God and then become the people that God has created them to be, thus bringing glory and honor to the Lord.

Have something to say about this article? Leave your comment via Facebook below!
advertise with us
Example: "Gen 1:1" "John 3" "Moses" "trust"
Advanced Search
Listen to Your Favorite Pastors