The Cross & the Pen: A Heart That Dances
Eva Marie Everson, Contributing Writer
Saturday, February 07, 2004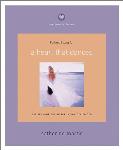 Eva: I don't know what I would do without my quiet time, yet I know so many who forsake it. Why do you think quiet time so important to the Christian?

Catherine: Quiet time is where you develop and grow in your relationship with God. You cannot know someone without spending time with them. And nowhere is that more true than with the Lord. So many are caught up with doing and the Lord is inviting us to be with Him. That happens when you open the pages of the Word to hear what He has to say and respond in prayer and trust and obedience.

Eva: Catherine, I well remember the days when I worked full time and had a house full of children, a husband, pets, and social obligations. Quiet time was called "a shower" or those few minutes alone in the car. How can busy wives and mothers find quiet time?

Catherine: I love that! Sometimes, it does seem that the shower is the only place where you can find a quiet place. How can we find quiet time when life seems to have no room for it? Eva, I would say this – quiet time never just happens. It is an intentional decision that we must make in advance and is borne out of our desire to know God. God prompts it as He invites you and me to an intimate relationship with Himself. There are seasons in all of our lives when finding quiet time with the Lord is more of a challenge. It comes down to a choice that will yield amazing results. In the busy times of life, there are exciting ways that you can create space for God in your life. Ask the Lord to show you when that time will be that you can slip away to be alone with Him. Keep all your quiet time materials in one place so that you don't waste any time looking for things. You may choose materials that will uniquely feed your heart with God's Word. Devotional Bibles that give you portions of Scripture are a great resource. If you choose A Heart That Dances for your quiet time, the beauty of this tool is that it gives you great quotes and excerpts from devotional classics, in-depth study in God's Word, hymns, prayers, journaling, and practical application – and it's all in one place! All you need is your Bible and this book of quiet times to have rich time alone with the Lord. It's very important to not rush through your quiet time even if you only have 10 minutes.  Always remember the Lord's invitation in Psalm 46:10: Be still and know that I am God. 

Eva: Catherine, what do you do in your quiet time and how can even the smallest amount of quiet time be productive toward growing more intimate with our Lord?

Catherine: I love my quiet time! I have all my quiet time resources in my quiet time basket. These resources include my Bible, my Quiet Time Notebook, various devotionals including My Utmost For His Highest by Oswald Chambers, a hymnbook, the NASB Hebrew-Greek Key Study Bible by Zodhiates, and other current books I'm reading. I firmly believe it is imperative to prepare my heart at the outset of my quiet time. I do this by meditating on a psalm, opening a devotional book, and writing in my journal. Then, I will read a portion of Scripture from the Bible reading plan I've chosen. This may be a Bible study I'm doing or a devotional Bible. Currently, I am studying Revelation using A Heart To See Forever, my latest book of quiet times. Some days I spend 10 minutes and other days I may spend two hours. No time is ever wasted with God in His Word. The more time the better.

Eva: Catherine, will you pray a prayer for our readers ... asking the Lord to open their hearts to a desire to dance?

Catherine: Lord, we come to You today humbled by Your incredible invitation to draw near to You. We say Yes Lord to the dance of the heart. Will You take the lead and grow in us the kind of heart that will come close and move with You? Give us the courage and wisdom to discern where we can say no to the many things in order to say yes to the one thing in life - intimacy with You. Be glorified in us this day. In Jesus' matchless name, Amen.

For more information about Catherine Martin, go to www.QuietTime.org.



Award-winning national speaker, Eva Marie Everson is the author of Shadow   of Dreams, Summon the Shadows and the recently released and highly anticipated Shadows of Light. She can be contacted for comments or for speaking engagement bookings at www.EvaMarieEverson.com.

Have something to say about this article? Leave your comment via Facebook below!
advertise with us
Example: "Gen 1:1" "John 3" "Moses" "trust"
Advanced Search
Listen to Your Favorite Pastors