The Cross & the Pen: Author Angela Hunt
Eva Marie Everson, Contributing Writer
Tuesday, October 19, 2004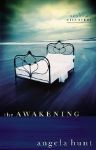 Welcome to "The Cross & the Pen," Crosswalk.com's author-to-author interview column!

Please allow me to tell you about my friend, Angie Hunt, though you may already know her as Angela Elwell Hunt! The first time I met Angie was at a bookseller's convention. She was sitting on a bench chatting with fellow artists and I just stood there in awe! I mean, here was Angela Hunt …author of, now, 64 novels.
Soon thereafter, Angie and I were both on "faculty" at a writer's conference. I was pretty bummed that I had to teach during her workshops. Something told me I could cram in a lot of learning under her tutelage! But on the way to the airport, we had the opportunity to share a ride and I learned that we were fellow Floridians!
So, with one hurricane behind us and another one in front of us, I picked up her latest novel, "The Awakening" (Thomas Nelson/WestBow Press), 2004. I couldn't put it down. This one, I think, is a keeper! Now, as Hurricane Frances was over and Hurricane Ivan was on the way, I got in touch with Angie pronto and chatted about her novel. Wanna listen in?
Eva Marie:  Okay, Angie ... one novelist to another. I absolutely LOVED your book! I mean, I'm reading this, going, "I am a terrible writer compared to this! I should stop writing altogether and become a professional novel reader!"
Angie:  Oh, I know that feeling — happens almost every time I pick up a book. (Blushing), thanks, but believe me, as I was writing I was thinking, "this is so terrible I might as well give up!" "The Awakening" went through many rewrites.
Eva Marie:  Well, okay. That makes me feel a bit better. (Not!) This is undoubtedly one of the most unique stories and storytelling I've ever encountered as a reader ... and I've been reading nearly my whole life. From a writer's perspective, it's done, well, differently! So, let me ask you this first: why did you decide to write more in a "present" tense than a "past" tense?
Angie:  I pulled present tense, first person from my writer's toolbox because I really wanted a feeling of immediacy. In order to pull off the dream sequences, I knew they'd have to have the feeling of actually "being there," and that seems to work better in first person and present tense. The reader experiences things in the same instant as the character.
Eva Marie:  Ah, that writer's toolbox, eh? Okay … here's the other interesting tidbit about the writing format: double first-person indicated only by the apartment they live in. Were you afraid your readers would have trouble discerning who was speaking?
Angie:  I was hoping my readers would catch on to the cute little set up at the beginning of each chapter. Apartment 15A was Aurora's (A for Aurora), 15B was Phil's (B for Boy), and 15C was Clara's (C for Clara). Maybe I was hoping for too much, because I have heard from readers who found that a little confusing at first.
Eva Marie:  Actually, I had no trouble at all. I guess it's no different that walking into an apartment complex and saying, "There's Jill's front door, there's Sean's, there's the one with man who has the funny little dog. …" For me, it totally worked.
Let's talk about dreams. Your female lead, Aurora, has some fairly vivid dreams. I was reminded of the dreams God spoke in — from those stories we read about in the Bible. The Genesis Joseph to the Joseph of the Gospels. God speaks in dreams. Were you afraid someone might say, "Hmmm.  Is this God or does this woman need drugs?"
Have something to say about this article? Leave your comment via Facebook below!
advertise with us
Example: "Gen 1:1" "John 3" "Moses" "trust"
Advanced Search
Listen to Your Favorite Pastors