The Cross & the Pen: Author Cecil Murphey
Eva Marie Everson, Contributing Writer
Tuesday, April 05, 2005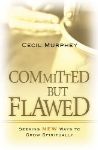 Welcome to The Cross & the Pen, Crosswalk.com's author-to-author interview column!
As my readers well know, one of the things I love about being a Christian author and speaker is that I have the privilege of getting to know others who have been called to a like ministry. Early on in mine, I began hearing a common name on the lips of those I admired and respected:  Cecil Murphey. "Have you met Cec?" they'd ask me. "No," I'd reply, "but I've heard a lot about him." When I did meet Cec, it took me all of two seconds to understand why he is so beloved. He's funny, compassionate, and ready to lend a helping hand to anyone who asks. I didn't exactly ask, but one afternoon while we were at a conference, he draped his arm around my shoulder and said, "I like you, Kid, and I think you need to be introduced to some of my friends."
I can honestly say that much of what I've been able to accomplish as a Christian author and speaker is because of Cecil Murphey, my dear, dear friend.
But, Cecil is more than my friend (or the friend of countless others). He's the author of 98 books (yes, you read that correctly) and has more in the works. He's a three-time winner of the Dixie Council of Authors & Journalists (After the third time, they declared him ineligible to win again — ha!).
In 2002, he received the Pacesetter Award from Mount Hermon Christian Writers' Conference. He's been nominated three times (with one win) for the Gold Medallion Award (the crème de la crème in Christian publishing). Recently, he won the Silver Angel for Print Medium (presented by Excellence in Media) for "I Choose to Stay:  A Black Man Refuses to Desert the Inner City" and for "Committed But Flawed."
Recently, Cec and I got together to talk about "Committed But Flawed" (AMG Publishers), his latest work. Wanna listen in?

Eva Marie:  Cec, I loved the book! I really did. I felt as though you and I had just curled up in two nearby chairs and started a conversation about being "committed to God," but not necessarily perfect in our mission.
Cecil:  I think that's an apt description of most of us. We are committed — we want to be close to God, but we're also aware of our flaws or imperfections.
Eva Marie:  You may or may not know this, Cec, but I'm a book underliner. Let me just tell you that the introduction of your book is now filled with underlined passages. So, let me begin with the first one ... because it's the first line of the whole book. You wrote: "I yearn for more of God in my life."
Cecil:  That's true for me. Even in my flawed condition, I want as much as God will give me. I want to grow. My books reflect where I am on my journey. "Committed But Flawed" began when I struggled over feeling loved by God. Theologically, I knew God loved me, but I didn't feel that love.
Eva Marie:  Cec, why do you think that happens? That Christians who know from the deepest part of their minds that God loves them, can't grasp it from the deepest part of their hearts?
Cecil:  I can't speak for everyone, but I never felt unconditionally loved by my parents. I felt they approved of me when I behaved well. First John 4:19 says, "We love because He first loved us." Some translators insert Him to make it read: "We love Him." But that pronoun is not in the Greek. I believe we must experience love from our parents or someone significant before we can love.
Our childhood experiences unconsciously transfer over in our relationship with our heavenly Father. If we felt unloved, we tend to project that on God and seek ways to make Him love us more. At least, that's how it worked in my life.
Have something to say about this article? Leave your comment via Facebook below!
advertise with us
Example: "Gen 1:1" "John 3" "Moses" "trust"
Advanced Search
Listen to Your Favorite Pastors