The Cross & the Pen: Author Jill Krieger Swanson
Eva Marie Everson, Contributing Writer
Tuesday, July 05, 2005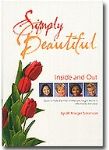 Welcome to the Cross & the Pen, Crosswalk.com's author-to-author interview column!
Hey, if you're like me and remember fondly the sleepovers you had with girlfriends as a teen and preteen, you're going to love this next interview! Jill Krieger Swanson is the author of "Simply Beautiful:  Inside and Out" (River City Press, Inc.), a fabulous book about fashion, makeup, beauty made easy and cost effectively, and spiritual beauty. Talking with her is like sitting on the floor with a girlfriend, clothes and makeup scattered all around, some tunes coming from the stereo and … well … wanna listen in?
Eva Marie Everson:  I got the book! And, I love it!! I'm reading the first chapter (strange I would start there, huh?) and just laughed out loud at some of the things I read. You've hit the nail on the head for so many of us, girl!
I have to tell you. I've never been a big "shoe person." I'd have ... maybe ... three or four pair of shoes in my entire closet and call it a day. Living in Florida now, I have begun to get into the "sandal" fetish. Still, I find myself looking for sandals that will go with everything, rather than be "cutesy ... " though I did JUST buy a precious pair one of my daughters claimed as "Cute, but almost little-girlish." Geez, I have one pair of "fashion" sandals! So, sue me!
Jill Swanson:  I too am looking for the perfect sandals -- they must be comfortable and go with everything -- I got the best pair of flip flops last year at Wal-Mart -- they are bronze and have turned out to be my favorites. Wish I knew that last year -- I would have bought 5 pair!
Eva Marie:  Wal-Mart; who'd-a thunk it? (laughs) All kidding aside, here's a serious question. Can women today have beauty without vanity?
Jill:  Absolutely! First of all you have to realize that beauty is an all-encompassing word -- not just related to how we look physically, but the total package. In order to be vogue on the outside without being vague on the inside, we need to balance the time and effort put forth to enhance outer beauty with what we are doing to improve our minds and souls. That's why I think learning to simplify our beauty routine is the key.
Eva Marie:  Jill, let's talk specifics. I love the new flared skirts that are part of this season's fashion line up. They're great with sandals, of course, but can I match them with nude hose and low-heeled pumps and get away with it?
Jill:  Yes! This will give the skirt a more formal appearance, perfect for church or even work. It's also ideal when you are unsure of what hem length to go with. The distance from hem to shoe is "blurred" so there is no attention drawn to that area. Be sure to choose hose that blend with your skin tones, often "suntan" tends to look orange and some "taupes" can appear grayish. You want your legs to look natural!
Skirt lengths are more varied today than ever. The key is to find a length that flatters your leg. Pay attention to your calves and how they are contoured. Choose a length that falls just below the knee and above the upper curve of your calf. Avoid ending the hem at the widest part of your calf. If you have good-looking calves and knees, be brave and go just above the knee (provided it is appropriate for the event).
Eva Marie:  I once heard that as a woman gets older she has to apply more make-up, but must do it in such a way as to look like she's wearing less. What do you say to that?
Jill:  For many women, this is true. The fact is that we lose a lot of the deeper and brighter coloring we had when we were younger -- this is obvious when our hair color begins to turn white -- but it is also the case with our lip and eye color. My brown eyes get lighter each year, taking on an amber cast. Young children have bright red lips and rosy cheeks but with time, our lip color and lip definition fades, making lipstick (and lip liner) more of a necessity. I advise avoiding brown tones of lip and cheek color as time marches on and instead choosing a flattering rose, peach or raspberry shade.
Have something to say about this article? Leave your comment via Facebook below!
advertise with us
Example: "Gen 1:1" "John 3" "Moses" "trust"
Advanced Search
Listen to Your Favorite Pastors