The Cross & the Pen: Author Kathleen Jackson
Eva Marie Everson, Contributing Writer
Monday, September 20, 2004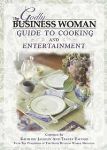 Welcome to "The Cross & the Pen," Crosswalk.com's author-to-author interview column!
One of my dearest friends in the whole wide world is Kathleen Jackson, publisher of The Godly Business Woman Magazine. Nearly every weekday morning she and I sludge through the humid Florida climate, walking and praying our way to becoming healthier (both physically and spiritually). Over the past couple of years I have heard her heart's desire being laid before the Lord; to write a book designed to help women (both those in the corporate world and those who have professionalized homemaking. What a God-thing that we were together when she received the news of its upcoming publishing and then again when the first book came to her via special delivery!
Recently, we got together to talk about her newest book, "The Godly Business Woman Magazine Guide to Cooking and Entertainment" (co-compiled and editing with Tracey Davison, editor of the magazine), published by Living Ink Books (an imprint of AMG Publishers). Wanna listen in?
Eva:  Kathleen, let's get first things out of the way first. This book is NOT a cookbook, as I've heard you say numerous times. (Laughing.) So, tell me what it is exactly!
 
Kathleen:  It is a guide to entertaining. So many women say I can't have people over, my house is too small, my carpet is so old, etc. We want to educate women that it is not the bricks and mortar that is important. It is the heart of the house. We wrote the book in response to our readers from The Godly Business Woman Magazine.
Eva:  What made you (as the publisher of The Godly Business Woman Magazine, a magazine for and about women in the workplace) want to write a book about entertainment, especially as it relates to their homes? Did someone inspire you?
Kathleen:  We featured Vonette Bright [wife of the late Dr. Bill Bright and cofounder of Campus Crusade for Christ] on the GBW Magazine several years ago and it was at that time I was given her book the joy of hospitality and from the moment I read it, I was convicted that I needed to do something like that for working women. The number one need for the working woman is balance in their life. This book will help ladies (and men) understand they can entertain 5, 50 or 500 people and do it with ease, stay within budget and have it all completed on time.
Eva:  Kathleen, from a godly perspective, why is hospitality so important?
Kathleen:  When people are treated with hospitality it disarms them and makes them receptive to hear the Good News. It shows you care about excellence and about making them feel special.
Eva:  I couldn't agree with you more! So, tell me about the layout of this book! Let's start with the cover, which, by the way is gorgeous! What do you think the cover says about what readers will find inside?
Kathleen:  I think the cover says class! That is what we were striving for, Simple class! It looks like a picnic table with china on it, doesn't it?
Eva:  Simple and elegant! I love it! So, inside you have divided things into three sections. Tell me about them.
Kathleen:  The first section is about entertaining. We start off with the purpose – using your home for evangelism. Then we move on to planning the event, menus, basic etiquette, nutritional know how, and we end that section with a chapter written by Mary Hunt ("The Cheapskate Gourmet") showing us how to make an ordinary meal a memorable occasion. We move in to special occasions – celebrations, breakfasts, brunches, dinner with family and friends, buffets etc. We have planning chapters that cover engagement parties, wedding celebrations, baby showers, retirement parties etc. These chapters are filled with tips to plan your meal from the food to the scent of candle to burn to enhance the aroma in the room! We offer menus, invitation ideas, as well as entertainment for these sections.
Have something to say about this article? Leave your comment via Facebook below!
advertise with us
Example: "Gen 1:1" "John 3" "Moses" "trust"
Advanced Search
Listen to Your Favorite Pastors