The Cross & the Pen: Author Kathleen Jackson
Eva Marie Everson, Contributing Writer
Monday, September 20, 2004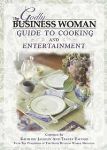 Section three starts off with gifts from the heart, and then moves into some fun holidays like Valentines Day, Easter, Fourth of July, Thanksgiving, Christmas and New Years. We want to be the resource where women go to entertain with excellence. If we are to do it unto the Lord, then we are to do it with excellence. Excellence does not necessarily mean expensive or difficult. We are so proud to bring this resource to ladies to put them at ease when they open the doors of their home to entertain. We also show you how to entertain in a restaurant if necessary. This book will have answers for all your entertaining needs and is done in full color with pictures that jump off the pages and say, "Eat me!"
Eva:  They do! (Laughing.) You and your magazine editor, Tracey Davison, compiled and edited the book. Tell me a little about those who contributed to this work.
Kathleen:  We were blessed with contributing writers for this project. They all saw the vision to help women entertain with excellence and we are so grateful and thankful to the quality of writers that God brought to us. Some of our contributors include Vonette Bright – a.k.a. The Queen of Hospitality – Mary Hunt, Marita Littauer, who is a gourmet cook herself! Doris Christopher, founder of The Pampered Chef, contributed her talent to this project as well, and of course you ... Eva Marie Everson … penned our Christmas chapter.
Eva:  Oh, but of course! (Laughing again.)
Kathleen:  There are many more talented men and women that contributed to this book but "you will have to buy the book to learn the rest of them!"
Eva:  You are so funny. But those are great names, Kathleen – and I'm not talking about mine. What a thrill to have so much from so many wonderful writers give so much information in one easy to use book! In your heart's eye, how do you see this book being used?
Kathleen:  I see this book being used by women to bring people into their homes and introduce them to a relationship with Christ. Isn't that what it is all about? Our prayer is that once women get comfortable opening the doors of their home and entertaining, that they do it for Him as a ministry. Women love food so why not invite women into your home and let them feel the Spirit of Jesus through your hospitality and that, like I said earlier, will disarm them and make them ready to hear the Good News of Jesus Christ. Good hospitality will put people at ease and make your event flow smoothly. Remember, of course, to have a purpose for the event and we pray that purpose is to introduce them to our Savior.
Eva:  Kathleen, in closing, I always ask our authors to say a prayer. Would you say a short one for those businesswomen out there who struggle to balance home and the workplace?
Kathleen:  Certainly. Father God, I lift up all precious women to you. I pray that women will have a desire to draw close to you Lord, and at the same time that women would be the light that would bring people to you by their actions and words Lord. Father, I pray that women would extend the hand of hospitality to people from all walks of life. I pray that you bring people to us that we can impact, Lord. Whether it is by our words, deeds, or in our homes, Lord, help us to be the light in this dark world. I pray for the single mother who has to run her household. Father, I pray that you give her strength to make it through each day Lord. I pray for financial blessings on her home and that her children would be safe. Bless the efforts of our hands Lord and help us to produce Godly disciples with our children. Father, we will remember to thank you and praise you for our jobs and families. For all you do Lord, we are so unworthy, and I thank you, oh yes, Father, I thank you. For loving us when we don't deserve it, and I pray that we extend that same grace and mercy to others. Jesus, I love you and I exalt your name on high. Amen.
Have something to say about this article? Leave your comment via Facebook below!
advertise with us
Example: "Gen 1:1" "John 3" "Moses" "trust"
Advanced Search