The Cross & the Pen: Author Linda Secrest McDowell
Eva Marie Everson, Author & Contributing Writer
Monday, February 07, 2005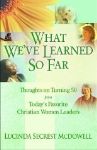 Welcome to The Cross & The Pen, Crosswalk.com's author-to-author interview! Today I'm talking to Lucinda Secrest McDowell, whose book, "What We've Learned So Far, Thoughts on Turning 50 from Today's Favorite Christian Women Leaders" (Cook, 2005), is certainly a favorite among those on my bookshelves.
Fifty looms on the horizon. I can hardly begin to believe I'm saying that, but I am and it does.
Fifty. Half a century. I would say "middle age," but very few live to be a hundred, so technically, we're beyond the halfway mark.
But, like forty, which carries with it a certain "now you can take me seriously," fifty brings about a precious new season in life. One that says, "I'm wiser now … " and "It's time to show the world — and myself — just who it is that I am."
When my friend told me she was writing a book about what the top women in Christian leadership think about turning fifty, I was impressed. Because, you see, I now know better than ever that it's the knowledge that makes the difference. Knowledge gives birth to wisdom because wisdom is oftentimes knowledge with a price tag.
So, I sat down with "Cindy" to ask her a few questions about her book. Wanna listen in?
Eva Marie:  Cindy, what an excellent idea! Tell me the truth, did you wake up on your fiftieth birthday and think, "I should write a book about this?"
Lucinda (Cindy): I began "preparing" to turn 50 long before the actual date. I realized that it would be an important milestone and so a few years before I actually sat down and wrote seven important lessons I believed I had learned so far, lessons which are so significant that I believe they have helped to shape who I am. Then I began reflecting on how I had learned these lessons, almost always the hard way! So I wrote stories to illustrate each one. My purpose was to be an encouragement (and a challenge) to the other 4 million baby boomers who were also reaching this important milestone and beginning to ask some hard questions about their lives. It was on my actual 50th birthday that I signed the contract for the book, so I was actually 51 when it premiered.
Eva Marie:  Well, we'll cut you some slack on that (smiling). "What We've Learned So Far" has the tagline: "Thoughts on Turning 50 from Today's Favorite Christian Women Leaders." Who are some of those women?
Cindy:  Obviously no one of us has a handle on wisdom or even truth, so I began thinking of my many peers, women in my age group who also write and speak and teach. I contacted each of these folks and invited them to be part of the project, to share one story depicting how they experienced the importance of one of these seven lessons of life. I'm delighted to have 50 contributors in the book such as Carol Kent, Anne Graham Lotz, Joni Eareckson Tada, Martha Bolton, Carole Lewis, Patsy Clairmont, Cheri Fuller, Becky Pippert, Jan Karon, Charlene Baumbich, Luci Swindoll, Gail MacDonald, Karen Mains, and many, many more.
Eva Marie:  Wow! Cindy, think about what some of us would do just to sit down and have conversations with a few of these women. That alone makes the book so valuable!
Cindy:  I think so, too.
Eva Marie:  You say in the introduction that you now embrace seven important "life truths." What are they?
Cindy:   Who I Am Is More Important Than What I Do, God is in Control, Relationship Are to Be Cherished, Freedom Is Found in Simplicity. Pain Either Destroys or Transforms ...
Eva Marie:  Isn't that the truth. …
Have something to say about this article? Leave your comment via Facebook below!
advertise with us
Example: "Gen 1:1" "John 3" "Moses" "trust"
Advanced Search
Listen to Your Favorite Pastors