The Cross & The Pen: Author Lisa Samson
Eva Marie Everson, Author & Contributing Writer
Monday, August 29, 2005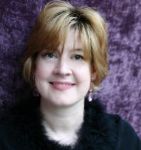 Welcome to The Cross & The Pen, Crosswalk.com's author-to-author interview column!
Ever met someone and just "hit it off" right away? Ever read a book and thought, "If I could meet the author, I bet we'd be really good friends!" Well, that's what I thought when I first read Lisa Samson's work. And, if you've never indulged yourself to read some of her writings, let me encourage you to do so … starting right now!
Recently Lisa and I got together to talk novelist-to-novelist! We had way too much fun! Wanna listen in?
Eva Marie:  Good afternoon, Lisa!
Lisa Samson:  Hi, Eva Marie!
Eva Marie:  How are you this bright and sunny day?
Lisa Samson:  Wonderful! Gorgeous here in KY!
Eva Marie:  Here in Florida, too! 
Lisa Samson:  Hot yet?
Eva Marie:  Yeah, it's hot, but not yet horribly humid. So, are you ready to talk "turkey club?" First, Lisa ... tell me a little bit about yourself ... you know ... wife, mother, etc.
Lisa Samson: Okay … wife and mom, number one responsibilities. Writer stuff fits in around the edges.
Eva Marie:  When you did "decide" to be a writer and what started the um ... madness?
Lisa Samson:  (laughing) One day, at 27, I just "decided to write a book!" I'd never done anything like that. But I've always loved, loved, loved to read. And always fiction. There's nothing like a good book. I started the process, and sent the book off to two pubs two months later (it was lousy), but my first publisher bit and here I am a dozen years later.
Eva Marie:  Who were your inspirations?
Lisa Samson:  I love Anne Tyler and Larry McMurtry. Well-developed and interesting characters just suck me right in.
Eva Marie:  Oh! Don't you hate to go back and read that first stuff you sent off?

Lisa Samson:  I hate that first stuff! If I knew then what I know now, I'd have never been brash enough to send it to anyone. It's one of those "foolish things of this world" examples!
Eva Marie: How funny! Going back to Anne and Larry ... do you recall a particular book that made you go, "I can do this!" or "I should try this?"
Lisa Samson:  I'm not normally a romance reader, but my sister had "Outlander" sitting around, and I picked it up and it drew me right in. That book really was the impetus for me to try writing a book. And it was the right time in my life. It's funny how that works. The things that normally wouldn't affect you have a huge impact at a certain time.
Eva Marie:  And your first book? What was it called?
Lisa Samson:  It was called "The Highlander and His Lady." (Excuse me while I become nauseous.)
Eva Marie:  (Laughing) In other words, don't go out there and buy it!
Lisa Samson: You couldn't find it if you wanted to! Unless it was for $0.35 at some used book site! And that's fine with me!
Eva Marie:  Amazon's "Used Book" section, perhaps? (I know, don't put any ideas in anyone's head.)
Lisa Samson:  Yep. The lowest I've ever seen one of my books for is 28 cents! I almost bought it myself!
Eva Marie:  But, was it signed???
Lisa Samson:  Oh my gosh! Isn't that weirdest thing? I see those signed copies and wonder, "How did that happen?"
Eva Marie:  So, then let's talk about "Club Sandwich." When I realized what it was about ... and thus the title ... I laughed out loud! Give the readers a brief overview of "Club Sandwich."
Have something to say about this article? Leave your comment via Facebook below!
advertise with us
Example: "Gen 1:1" "John 3" "Moses" "trust"
Advanced Search
Listen to Your Favorite Pastors